Christin Marquitan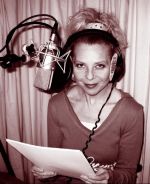 Die Hamburgerin machte ihre Ausbildung an der Hochschule für Musik und Darstellende Kunst in Hamburg, und nahm zudem Gesangsunterricht bei Brigitte Fassbänder. Es folgten Bühnenengagements in vielen verschiedenen Städten, unter anderem in Wien, Saarbrücken, Berlin, München und Stuttgart.
Christin war auch in zahlreichen Fernsehproduktionen zu sehen, unter anderen in "Wolfs Revier", "Gute Zeiten Schlechte Zeiten", "Tatort", "Derrick" und "Der Alte". Sie kann 15 Jahre Theatererfahrung, unter anderen beim Burgtheater Wien, Staatstheater Stuttgart und Staatstheater Saarbrücken vorweisen. Desweiteren erhielt sie den O.E. Hasse – Preis im Bereich Schauspiel/Gesang. Christin unternahm sogar Bühnen- und TV-Shows sowie Tourneen mit Karl Dall.
Ihre extrem wandelbare Stimme erlaubt es ihr Joely Richardson in "Nip/Tuck", Sandra Oh in "Grey's Anatomy" und Andrea Elson in "ALF" zu synchronisieren. Aber auch für Anime-Serie, wie 'Karai' in "Teenage Mutant Ninja Turtles", 'Major Motoko Kusanagi' in "Ghost In The Shell: Stand Alone Complex" und 'Merle' in "The Vision of Escaflowne" lieh sie ihre Stimme.
In ihrer Freizeit betreibt sie Fitness, hört Musik, liest Bücher und spielt mit ihren Tieren.
Sylvia P. - myFanbase
Ausgewählte Sprecherrollen