David Nathan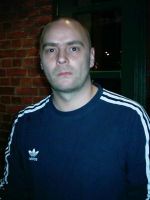 David Nathan wurde 1971 in Berlin geboren und gilt als einer der besten Synchronsprecher Deutschlands. 1989 verließen seine Eltern die DDR und so konnte er seinen Wunsch, die Schauspielschule zu besuchen, nicht erfüllen. So arbeitete er zuerst als Maler und Lackierer. Sein Vater, Michael Pan, nahm ihn mit zu seinen Drehorten und irgendwann wurde dann zu ihm gesagt: "Geh du ans Mikro und mach mal.". Danach bewarb er sich im Westen bei einigen Synchronstudios und seine ersten Sprechrollen ließen nicht lange auf sich warten. Der 1.85m große David verfügt neben den Sprachen Deutsch und Englisch, auch den berlinerischen Dialekt.
Im deutschsprachigen Kino erlebt man ihn vor allem als stimmliche Vertretung von Johnny Depp. Auch Christian Bale, Rick Schroder, Michael Vartan, Kevin Bacon, Mark Wahlberg, Jude Law usw. vertont der Berliner sehr oft.
Doch nicht nur als Synchronsprecher ist David tätig, sondern auch als Sprecher allgemein - besonders Hörbuchverlage buchen ihn gerne, da er eine unglaublich gute Erzählgabe besitzt. Er ist zudem oft zuständig für Dialogregie und -bücher der Filme.
Seine mittelkräftige, jugendliche und frische Stimmlage ist für männliche Rollen im Alter zwischen 25 bis 40 einsetzbar. Auch diverse PC-Spiele, wie "Prince Of Persia – Warrior Within" und "Prince Of Persia - The Two Thrones" (Figur des Prinzen) sowie "Kingdom Hearts 2" (Figur des Auron) vertonte er. Er besitzt auch eine Playstation und spielt am liebsten Strategiespiele oder Wirtschaftssimulationen.
Ellen S. - myFanbase
Ausgewählte Sprecherrollen