Dominic Sherwood, Michael Gladis und weitere stoßen zum Cast von "Penny Dreadful: City of Angels"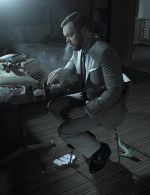 Michael Gladis
Showtime hat weitere Castmitglieder für den "Penny Dreadful"-Nachfolger "Penny Dreadful: City of Angels" bekannt gegeben. Dazu zählen auch "Shadowhunters"-Star Dominic Sherwood sowie der aus "Mad Men" bekannte Michael Gladis. Darüber hinaus haben Adam Rodriguez ("Roswell", "CSI: Miami"), Thomas Kretschmann, Lorenza Izzo und Ethan Peck Nebenrollen in dem Projekt erhalten. Gladis ist der einzige Neuzugang, der als Hauptdarsteller gecastet wurde.

"Penny Dreadful: City of Angels" handelt von 1938 in Los Angeles. Nach einem grausamen Mord, der die ganze Stadt in Aufruhr versetzt, ist Detective Tiago Vega (Daniel Zovatto) mit der Aufarbeitung des Falls beschäftigt. Die Geschichte spiegelt dabei die einzigartige Historie der Stadt wieder: vom Bau der ersten Autobahnen, über die tiefverwurzelte mexikanisch-amerikanische Folklore bis hin zu gefährlichen Spionageaktionen des Dritten Reichs oder dem Aufschwung von Radio-Predigern.

Gladis wird als Councilman Charlton Townsend in Erscheinung treten. Er ist ein ambitioniertes Mitglied des Verkehrskomitees des Stadtrats von Los Angeles. Er hat Killerinstinkte und steckt voller erbarmungsloser politische List.

Sherwood wurde als Kurt, der Chauffeur und Bodyguard von Richard Goss (Kretschmann) gecastet. Hinter ihm steckt mehr, als man auf den ersten Blick annehmen mag. Goss ist derweil ein adliger und geheimnisvoller deutscher Architekt, der große Pläne für Los Angeles hat. Er ist sehr manipulativ und hat beunruhigende Verbindungen zum Rathaus.

Rodriguez wird als Raul Vega, der älteste Sohn der Familie Vega, in Erscheinung treten. Er ist der selbstgefällige Anführer einer Gewerkschaft und ein Sprecher für seine Gemeinde. Izzo übernimmt derweil den Part der Santa Muerte, der Engel des Heiligen Todes, die wiederum die Schwester der charismatischen Dämonin Magda (Natalie Dormer) ist. Peck spielt unterdessen den Part des Herman Ackermann, ein charismatischer Stellvertreter beim Deutsch-Amerikanischen Bund, der mit seiner aggressiven Politik und aufgeheizten Rhetorik für einige Probleme sorgt.

Bereits zuvor wurden neben Natalie Dormer und Daniel Zovatto auch Kerry Bishé, Adriana Barraza, Rory Kinnear, Jessica Garza, Johnathan Nieves, Nathan Lane, Amy Madigan, Brent Spiner und Lin Shaye für "Penny Dreadful: City of Angels" gecastet.

Die Dreharbeiten zu "Penny Dreadful: City of Angels" sollen noch dieses Jahr beginnen. John Logan ist erneut als Serienmacher und ausführender Produzent für das Projekt verantwortlich.
Externer Inhalt
An dieser Stelle ist Inhalt von einer anderen Website (z. B. YouTube, Twitter...) eingebunden. Beim Anzeigen werden deine Daten zu der entsprechenden Website übertragen.
Quelle: Variety
Catherine Bühnsack - myFanbase
26.06.2019 12:50
Weitere News
mehr News
Meistgelesen
Verpasst keine News und Updates