Häufig gestellte Fragen

Euch brennt eine dringende Frage zu der Serie "Shadowhunters" unter den Nägeln? Dann her damit! An dieser Stelle beantworten wir die am häufigsten gestellten, spannendsten und wichtigsten Fragen!

Wenn Ihr eine Frage habt, dann schreibt einfach eine E-Mail an meineFrage@myFanbase.de oder meldet euch unten in den Kommentaren.

---
Seit wann wird die Serie in den USA ausgestrahlt?
Die erste Staffel von "Shadowhunters" startet am 12. Januar 2016 bei Freeform (ehemals ABC Family).

US-Erstausstrahlung:

Staffel 1: 12.01.2016 - 05.04.2016
Staffel 2: 02.01.2017 - 14.08.2017
Staffel 3: 03.04.2018 - 06.05.2019

Wann wird die Serie in Deutschland ausgestrahlt?
Netflix zeigte die bisherigen Staffeln von "Shadowhunters" einen Tag nach der US-Ausstrahlung zeigen.

Im März 2019 wurde bekannt, dass Sixx die Ausstrahlung der ersten Staffel für Ende des Monats plant.

Staffel 1: 28.03.2019 - 02.05.2019
Staffel 2: 23.08.2020 - 05.03.2020
Staffel 3: 06.08.2020 - 29.10.2020

Gibt es bereits DVDs zur Serie?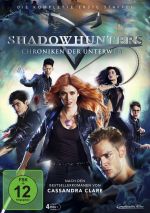 © Constantin Film
Die erste Staffel von "Shadowhunters" erscheint am 4. Mai 2017 in Deutschland auf DVD (4 Discs) und Blu-ray (3 Discs). Als Sprachen sind auf beiden Fassungen Deutsch und Englisch in Dolby Digital 5.1 und Dolby Digital 2.0 bzw. bei der Blu-ray im Tonformat DTS-HD High Resolution 5.1 enthalten. Die Laufzeit der 13 Episoden umfasst bei der DVD ca. 532 Minuten und bei der Blu-ray-Fassung ca. 553 Minuten.

Staffel 1 bei Amazon bestellen: DVD | Blu-ray
Staffel 2 bei Amazon bestellen: DVD | Blu-ray
Staffel 3.1 bei Amazon bestellen: DVD | Blu-ray
Staffel 3.2 bei Amazon bestellen: DVD | Blu-ray

Wie viele Bänder der "Chroniken der Unterwelt"-Saga von Cassandra Clare existieren?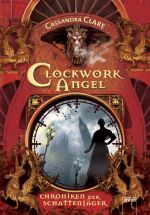 © Arena Verlag GmbH
Bislang sind sechs Bänder der von Clarissa Clare geschrieben Buchreihe erschienen, von denen das erste "City of Bones" 2007 erschien. Als Prequel zu der Serie schrieb sie die "Die Chroniken der Schattenjäger", die aus drei Bänden besteht. 2013 veröffentlichte sie außerdem "Die Chroniken des Magnus Bane", von denen jedes Kapitel als E-Book monatlich veröffentlicht wurde.

Die Chroniken der Unterwelt

Band 1: City of Bones (2007)
Band 2: City of Ashes (2008)
Band 3: City of Glass (2009)
Band 4: City of Fallen Angel (2011)
Band 5: City of Lost Souls (2012)
Band 6: City of Heavenly Fire (2014)

Die Chroniken der Schattenjäger

Band 1: Clockwork Angel (2010)
Band 2: Clockwork Prince (2011)
Band 3: Clockwork Princess (2012)

Warum wurde nach dem ersten Film nicht auch das zweite Buch zu einem Film umgesetzt?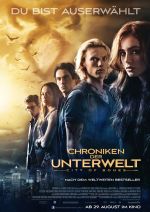 © 2013 Constantin Film Verleih GmbH
Obwohl nach die "Chroniken der Unterwelt - City of Bones", in denen unter anderem Lily Collins, Jamie Campbell Bower und Robert Sheehan die Hauptrollen übernahmen, geplant war, den zweiten Roman "City Of Ashes" ebenfalls zu verfilmen, verwarf die Produktionsfirma Constantin Film diese Idee wieder, da das Einspielergebnis nicht den Erwartungen entsprach. Kurze Zeit stand zwar im Raum, die Fortsetzung aufgrund der Fan-Reaktionen doch wieder in Angriff zu nehmen, doch schlussendlich entschied sich Constantin Film dazu, die Reihe lieber als Serie zu produzieren.

Behandelt "Shadowhunters" den bereits verfilmten ersten Band "City of Bones" noch einmal oder setzt sie gleich mit dem zweiten ein?
"Shadowhunters" dreht sich allem Anschein nach vor allem um Band 1 der Buchreihe dreht. Die Serie ist zwar relativ nah an die Bücher angelehnt, aber es wurden auch neue Charaktere eingeführt, die natürlich zu alternativen Handlungssträngen führen. Zudem wurden auch bereits einige Charaktere gecastet, die erst in Band 2 vorkommen. Deshalb kann es sein, dass Staffel 1 entweder die beiden ersten Bände umfasst oder aber zumindest Elemente aus Band 2 bereits in Staffel 1 vorkommen.

Besitzen die Darsteller und Crewmitglieder von "Shadowhunters" auch Twitter-Accounts?
Ofzieller Serien-Account | Cassandra Clare | Ed Decter | McG | Katherine McNamara | Dominic Sherwood | Alberto Rosende | Matthew Daddario | Emeraude Toubia | Isaiah Mustafa | Harry Shum Jr. | Alan van Sprang | Maxim Roy | David Castro

Ceren K. - myFanbase

Kommentare
Meistgelesen
Aktuelle Kommentare

30.11.2021 22:50
Mir gefällt die moderne Interpretation, dass Carrie...
von Catherine

26.11.2021 13:44
War diese Woche auch schon ganz durcheinander, weil...
von Lena
mehr Kommentare
Verpasst keine News und Updates