Basics
"Shadowhunters" basiert auf der Romanreihe 'The Mortal Instruments' (in Deutschland als 'Chroniken der Unterwelt' betitelt), die innerhalb der 'The Shadowhunter Chronicles' erschienen ist. Die amerikanische Autorin Cassandra Clare hat neben den Büchern, welche sich um die magische Welt der Schattenjäger drehen, auch verschiedene Kurzgeschichten verfasst, die im gleichen Serien-Universum spielen.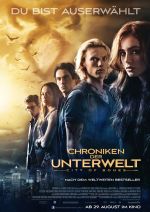 © 2013 Constantin Film Verleih GmbH
Der erste Roman "City of Bones" wurde bereits 2013 verfilmt. Die Hauptrollen in "Chroniken der Unterwelt - City of Bones" übernahmen u.a. Lily Collins, Jamie Campbell Bower und Robert Sheehan. Obwohl damals geplant war, den zweiten Roman "City Of Ashes" ebenfalls zu verfilmen, verwarf die Produktionsfirma Constantin Film diese Idee wieder, da das Einspielergebnis nicht den Erwartungen entsprach. Kurze Zeit stand zwar im Raum, die Fortsetzung aufgrund der Fan-Reaktionen doch wieder in Angriff zu nehmen, doch schlussendlich entschied sich Constantin Film dazu, die Reihe lieber als Serie zu produzieren.

Im März 2015 orderte schließlich der US-Sender ABC Family "Shadowhunters", mit an Bord ist Ed Decter ("Helix") als Showrunner und ausführender Produzent. Der ABC-Family-Vorsitzende Tom Ascheim äußerte sich folgendermaßen zum Serienprojekt: "'Shadowhunters' ist eine große, epische Saga, welche diejenigen Zuschauer von ABC Family begeistern wird, die Franchises wie 'Harry Potter', 'Tribute von Panem' und 'Twilight' mögen. Als New-York-Times-Bestseller für 122 Wochen ohne Unterbrechung, mit über 35 Millionen gedruckten Exemplaren weltweit, ist es die perfekte Geschichte, um sie mit unserem Publikum zu teilen."

Inhalt
Die Kunststudentin Clary Fray (Katherine McNamara) erfährt an ihrem 18. Geburtstag, dass sie kein normales Mädchen ist, sondern ihre Familie zu den Schattenjägern gehört, bei denen es sich um Hybriden aus Engeln und Menschen handelt, die Dämonen jagen. Da ihre Mutter Jocelyn (Maxim Roy) zu diesem Zeitpunkt plötzlich entführt wird, erhält sie in dieser schwierigen Zeit Hilfe von ihrem besten Freund Simon Lewis (Alberto Rosende) und dem mysteriösen Schattenjägern Jace Wayland (Dominic Sherwood). Er sowie die Geschwister Alec (Matthew Daddario) und Isabelle Lightwood (Emeraude Toubia) machen Clary mit der ihr völlig fremden Welt vertraut, in der nicht nur Magie existiert, sondern auch Dämonen, Magier, Vampire, Werwölfe und viele weitere Kreaturen. Clary muss schnell herausfinden, warum ihre Mutter ihr ihre Abstammung vorenthalten hat, denn nicht nur Clary's Leben steht auf dem Spiel.

Infos zur Serie
Genre: Drama
US-Start/US-Sender: 12. Januar 2016 auf Freeform (ehemals ABC Family)
D-Start/D-Sender: 13. Januar 2016 auf Netflix
Titelsong: "Live Like Legends" von Ruelle

Charleen Winter - myFanbase

Meistgelesen
Aktuelle Kommentare

19.05.2022 14:47
Ich fand die Episode auch sehr toll und vor allem, durch...
von Daniela

18.05.2022 14:07
Danke für die Vorwarnung :D Hab schon bei den letzten...
von Daniela
mehr Kommentare
Verpasst keine News und Updates