German Comic Con Ende September in Berlin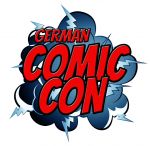 © German Comic Con
Die German Comic Con Berlin geht Ende September in die zweite Runde! Vom 30.09. bis 1.10. haben Film-, Serien- und Comicfans die Möglichkeit, ihre Stars in der Berliner Messe hautnah zu erleben. Dabei können sie Autogramme ergattern, ein Erinnerungsfoto von einem professionellen Fotografen schießen lassen oder auch in Panels die Fragen stellen, die ihnen auf der Seele brennen. Außerdem können sie sich auf eine große Auswahl von Merchandise freuen und ihren Lieblingscomic-Künstlern bei der Arbeit einmal über die Schulter schauen.

Das diesjährige Aufgebot an Stargästen kann sich sehen lassen. Unter anderem kann man beinahe den ganzen Hauptcast von "Marvel's Iron Fist" antreffen: Finn Jones, Wai Ching Ho, Jessica Henwick, Sacha Dhawan und Tom Pelphrey (dessen Interview über seine Rolle in "Banshee" ihr übrigens hier finden könnt).

Auch "Game of Thrones" Fans kommen auf ihre Kosten, denn Charles Dance, Jack Gleeson, Daniel Portman und Carice van Houten sind ebenfalls vor Ort.

Weitere hochkarätige Gäste sind unter anderem Walton Goggins ("Justified"), Kim Coates ("Sons of Anarchy"), Sean Gunn ("Gilmore Girls", "Marvel's Guardians of the Galaxy"), David Morrissey ("The Walking Dead"), Pearl Mackie ("Doctor Who"), Connor Trinneer ("Star Trek Enterprise", "Stargate Atlantis") oder auch Jeremy Buloch ("Star Wars").

Mit aktuell fast 30 Stargästen ist ein spannendes Wochenende vorprogrammiert. Tagestickets gibt es ab 20 Euro, und sie können über die Homepage der German Comic Con ergattert werden.

Quelle: German Comic Con
Nicola Porschen - myFanbase
29.08.2017 09:32
Weitere News
mehr News
Meistgelesen
Verpasst keine News und Updates