Anita Hopt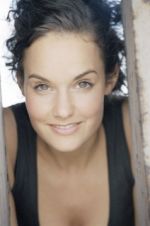 Anita Hopt
Die Anita Hopt wurde in Rotenburg an der Fulda geboren. Heute ist sie Sängerin, Synchronsprecherin und Schauspielerin zugleich.
Ihre Gesangskarriere begann bei der Swing- und Jazzband "4 to the bar", bei der sie bis November 2007 Frontsängerin war. Daraufhin schloss sie sich den Bands "Queensgang" und "Ladies go Diva" an, mit denen sie gelegentlich kleine Konzerte gibt. Seit 2009 ist sie zudem Gastsängerin bei dem Gitarrist Andre Krengel.
Ihre gesanglichen Talente kommen teilweise auch in ihren Einsätzen als Synchronsprecherin zur Geltung, beispielsweise übernimmt sie in mehreren Filmen der "Barbie"-Reihe die Gesangsstimme der Hauptrolle. Aber auch ohne Gesang ist sie als Sprecherin sehr erfolgreich. Vor kurzem konnte man sie in dem Kinofilm "(500) Days of Summer" als Autmn hören. In Serien übernimmt sie meist Nebenrollen, wie zum Beispiel in den Dramaserien "One Tree Hill" als Glenda Farrell, "Everwood" als Stephanie Meyer, "Greek" als Sienna oder in der Comedyserie "The Big Bang Theory" als Bernadette 'Bernie' Rostenkowski.
Nebenher tritt sie auch noch im Theater auf. Das bekannteste Stück, in dem sie mitgewirkt hat, ist "West-Side-Story", dass im Staatstheater Kassel aufgeführt wurde. Auch in den Theatern von Hamburg und Braunschweig ist sie bereits aufgetreten, außerdem war sie mit der Swing-Gala "That's life" auf Deutschland-Tournee.
Laura Krebs - myFanbase
Ausgewählte Sprecherrollen
Melissa Rauch (Summer)
in True Blood (TV) (Originaltitel: True Blood (TV))
Bianca Lawson (Marin Morell)
in Teen Wolf (TV) (Originaltitel: Teen Wolf (TV))
Laura Spencer (Jessica Warren)
in Bones - Die Knochenjägerin (TV) (Originaltitel: Bones (TV))
Nondumiso Tembe (Mavis)
in 30 Rock (TV) (Originaltitel: 30 Rock (TV))
Nondumiso Tembe (div. Rollen)
in div. Serien
Amy Gumenick (div. Rollen)
in div. Serien
Annaleigh Ashford (div. Rollen)
in div. Serien
Saori Gotou (div. Rollen)
in div. Serien
Melissa Rauch (div. Rollen)
in div. Filme & Serien
Youko Hikasa (div. Rollen)
in div. Filme
Kristen DeVore Rakes (Schwester Bridget)
in American Horror Story (TV) (Originaltitel: American Horror Story (TV))
Bresha Webb (Laverne St. John)
in Emergency Room - Die Notaufnahme (TV) (Originaltitel: Emergency Room (TV))
Kiersten Warren (Blair Spoonhour)
in The West Wing - Im Zentrum der Macht (TV) (Originaltitel: The West Wing (TV))
Amber Wallace (Glenda Farrell)
in One Tree Hill (TV) (Originaltitel: One Tree Hill (TV))
Christina Ulloa (Tina)
in True Jackson (TV) (Originaltitel: True Jackson (TV))
Eden Sher (Lucy)
in Sonny Munroe (TV) (Originaltitel: Sonny with a Chance (TV))
Vicky Rodewyk (Gabby)
in Power Rangers Jungle Fury (TV) (Originaltitel: Power Rangers Jungle Fury (TV))
Melissa Rauch (Bernadette 'Bernie' Rostenkowski)
in The Big Bang Theory (TV) (Originaltitel: The Big Bang Theory (TV))
Mayko Nguyen (Jennifer Fawcett)
in The Listener - Hellhörig (TV) (Originaltitel: The Listener (TV))
Melanie Merkosky (Megan)
in Slings and Arrows (TV) (Originaltitel: Slings and Arrows (TV))
Julie McNiven (Hildy)
in Mad Men (TV) (Originaltitel: Mad Men (TV))
Vanessa Martinez (Nellie Gamarro)
in Eleventh Hour - Einsatz in letzter Sekunde (TV) (Originaltitel: Eleventh Hour (TV))
Lindsay Lohan (Kimmie Keegan)
in Alles Betty (TV) (Originaltitel: Ugly Betty (TV))
Suzy Lawlor (Shirley)
in George Gently - Der Unbestechliche (TV) (Originaltitel: George Gently (TV))
Brie Larson (Krista Eisenberg)
in Ghost Whisperer - Stimmen aus dem Jenseits (TV) (Originaltitel: Ghost Whisperer (TV))
Lucy-Anne Holmes (Polly)
in Inspector Barnaby (TV) (Originaltitel: Midsomer Murders (TV))
Heather Hemmens (Stephanie Bennett)
in CSI: Miami (TV) (Originaltitel: CSI: Miami (TV))
Elán Garfias (Ceviche)
in Chowder (TV) (Originaltitel: Chowder (TV))
Eliza Dushku (Cameron Ashlock)
in Alles Betty (TV) (Originaltitel: Ugly Betty (TV))
Thuliso Dingwall (Kenard)
in The Wire (TV) (Originaltitel: The Wire (TV))
Brittany Curran (Chelsea)
in Hotel Zack & Cody (TV) (Originaltitel: The Suite Life of Zack and Cody (TV))
Meg Cionni (Marie)
in CSI: NY (TV) (Originaltitel: CSI: NY (TV))
Jamie Chung (Sienna)
in Greek (TV) (Originaltitel: Greek (TV))
Nicole Chisholm (Nicole)
in Einfach Cory! (TV) (Originaltitel: Cory in the House (TV))
Erin Chambers (Kat)
in Bones - Die Knochenjägerin (TV) (Originaltitel: Bones (TV))
Luciana Carro (Stephanie Meyer)
in Everwood (TV) (Originaltitel: Everwood (TV))
Nicole Briggs (Lena Norman)
in Kommissar Wallander (TV) (Originaltitel: Wallander (TV))
Jillian Bowen (Melanie O'Keefe)
in The Mentalist (TV) (Originaltitel: The Mentalist (TV))
Grey DeLisle
in American Dad, The Super Hero Squad Show (TV) (Originaltitel: American Dad, The Super Hero Squad Show (TV))
Daniella Alonso
in Without a Trace - Spurlos verschwunden, Knight Rider (TV) (Originaltitel: Without a Trace, Knight Rider (TV))
Rachel Woodward (Susi)
in Kikeri Pete (Originaltitel: Hatching Pete)
Dominique Swain (Lori Gunderson)
in Totally Awesome - Total abgefahren (Originaltitel: Totally Awesome)
Martina Stella (Donatella)
in Nine (Originaltitel: Nine)
Natasha Reese-Davies (Maya)
in The Deal - Eine Hand wäscht die andere... (Originaltitel: The Deal)
Carly Pope (Sarah)
in Intern Academy (Originaltitel: White Coats)
Annick Obonswain (Daisy)
in Charlie Bartlett (Originaltitel: Charlie Bartlett)
Melissa Lyons (div. Rollen)
in div. Filme
Christine Lakin (June Phigg)
in The Hottie & the Nottie (Originaltitel: The Hottie & the Nottie)
Minka Kelly (Autumn)
in (500) Days of Summer (Originaltitel: (500) Days of Summer)
Hanna Hall (Judith Myers)
in Halloween (Originaltitel: Halloween)
Steckbrief
| | | |
| --- | --- | --- |
| Geburtsname: | | Anita Marietta Hopt |
| Geburtstag | | 03.10.1981 |
| Geburtsort | | Rotenburg, Deutschland |
Aktuelle Kommentare
Verpasst keine News und Updates