Todd Stashwick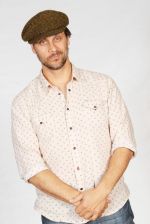 Geboren in Chicago und aufgewachsen in der Vorstadt der Windy City war für Todd Stashwick schon früh klar, dass er auf die Bühne wollte. Nach seinem Abschluss in Theaterwissenschaften an der Illinois State University schaffte er im Sommer 1990 den Sprung ans Second City, einem renommierten Improvisationstheater in Chicago. Nachdem er zunächst als Ticketabreißer und Platzzuweiser tätig war und Stühle auf- und abbaute, wurde er 1992 in die Schauspielgruppe des Second City berufen und ging auf US-weite Tour, unter anderem mit Neil Flynn ("Scrubs - Die Anfänger") und Adam McKay. In Retrospektive sagt Stashwick über seine Zeit beim Impro-Theater, dass es ihm eine Art Furchtlosigkeit lehrte: "Wenn du vor ein Publikum treten kannst ohne jegliches Drehbuch als Vorbereitung, dann ist die Arbeit mit Drehbuch ein Kinderspiel", so der Schauspieler im Interview mit Radar Online.

Ab 1997 war Stashwick Teil der Sketchgruppe der "Late Night With Conan O'Brien"-Show und lernte so das Leben im Fernsehgeschäft kennen. Mit der Zeit kamen auch kleine Rollen in B-Filmen dazu, wie etwa "Whacked" (1998) oder "Lucid Days in Hell" (1999). Ab dem Jahr 2000 ergatterte Stashwick eine lange Reihe an Gastauftritten in bekannten US-Serien, darunter "Angel - Jäger der Finsternis" (2000) und "Buffy - Im Bann der Dämonen" (2001), alle drei CSI-Serien, "The Guardian - Retter mit Herz" (2003) oder "Boston Legal" (2004). Im Jahr 2007 sah man Stashwick schließlich erstmals als Hauptdarsteller einer TV-Serie, nämlich in dem FX-Projekt "The Riches", das zwei Staffeln lang lief.

2009 wurde Stashwick dank der Rolle des Eli in "Heroes" einem breiteren Publikum bekannt. Er selbst war begeistert davon, dass er einen Charakter aus den Online Graphic Novels spielte durfte, der in die Serie übertragen wurde, da er selbst großer Comicfan ist: "Ich habe [als Kind] alles von Vertigo verschlungen, 'Sandman', 'Hellblazer', 'Watchmen', 'V for Vendetta' sowie alles von Frank Miller." Gemeinsam mit dem Zeichner Dennis Calero rief Stashwick 2010 auch einen eigenen Comic ins Leben, "Devil Inside", der auf seiner Website veröffentlicht wird.

2010 war Stashwick erstmals in einer Filmhauptrolle in dem Independentmovie "To Be Friends" neben Joelle Carter ("Justified") zu sehen. Außerdem hat er einen Gastauftritt im Matthias Schweighöfer-Film "Friendship!". 2011 wurde er dann für Stephen Gyllenhaals Dramedy "Grassroots" gecastet.

Stashwick ist seit 1997 mit seiner Frau Charity verheiratet, mit der er zwei Kinder hat. Er ist weiterhin sehr aktiv als Theaterdarsteller: Er ist Gründer der renommierten Impro-Truppe "Burn Manhattan", die von 1996 bis 2000 existierte; 2002 gründete er die Impro-Schule "The Hothouse" mit; zudem hat er gemeinsam mit Jason Ades, Sabrina Hill und Ezra Weisz die Impro-Truppe "The Doubtful Guests ins Leben gerufen.

Maria Gruber - myFanbase
Ausgewählte Filmographie (Schauspieler)
2014 - 2015
Teen Wolf (TV) als Henry Tate
Originaltitel: Teen Wolf (TV)
2013
The Originals (TV) als Kieran
Originaltitel: The Originals (TV)
2012
Justified (TV) als Ash Murphy
Originaltitel: Justified (TV)
2012
Revolution (#1.06 Sex and Drugs) (TV) als Drexel
Originaltitel: Revolution (TV)
2010 - 2011
Detroit 1-8-7 (TV) als Henry Malloy
Originaltitel: Detroit 1-8-7 (#1.03 Nobody's Home/Unknown Soldier & #1.12 Key to the City) (TV)
2011
Key to the City als Miles
Originaltitel: Key to the City
2011
Private Practice (#4.14 Trauer) (TV) als Brett
Originaltitel: Private Practice (TV)
2011
Better With You (TV) als Miles
Originaltitel: Better With You (#1.17 Better Without a Job & #1.21 Better with a Bargain) (TV)
2011
Grassroots als Nick Ricochet
Originaltitel: Grassroots
2011
Letting Go als Matheson
Originaltitel: Letting Go
2010
To Be Friends als Er
Originaltitel: To Be Friends
2010
Secret of the Black Cat als Elliot
Originaltitel: Secret of the Black Cat
2010
Friendship! als Darryl
Originaltitel: Friendship!
2010
Stalker Chronicles (TV) als Ringführer (Stimme)
Originaltitel: Stalker Chronicles (#1.03 The Spectacle) (TV)
2010
Helpless als Detective Miller
Originaltitel: Helpless
2009 - 2010
Heroes (TV) als Eli
Originaltitel: Heroes
2010
Dark Blue (TV)
Originaltitel: Dark Blue (#2.10 Personal Effects) (TV)
2010
The Good Guys (TV) als Kasson
Originaltitel: The Good Guys (#1.10 Vacation) (TV)
2010
Childrens' Hospital (TV) als Offizier
Originaltitel: Childrens' Hospital (#2.11 You Know No One Can Hear You, Right?) (TV)
2010
S#*! My Dad Says (TV) als Dickey Todd
Originaltitel: S#*! My Dad Says (#1.06 Easy, Writer & #1.11 Family Dinner for Schmucks) (TV)
2009
The Karenskys als kleiner Mad Karensky
Originaltitel: The Karenskys
2009
The Mentalist (#1.11 Der Freund eines Freundes) (TV) als Jared Renfrew
Originaltitel: The Mentalist (TV)
2009
Saving Grace (TV) als Teddy Kornblum
Originaltitel: Saving Grace (#3.08 Popcorn) (TV)
2009
Lass es, Larry! (TV) als Sandy Goodman
Originaltitel: Curb Your Enthusiasm (#7.03 The Reunion & #7.09 The Table Read) (TV)
2009
Lie to Me (#2.09 Viva Las Vegas) (TV) als Hugh Ellis
Originaltitel: Lie to Me (TV)
2008
Law & Order: Special Victims Unit (#9.15 Ausgeliefert) (TV) als Matthew Parker
Originaltitel: Law & Order: Special Victims Unit (TV)
2008
The Game (#2.17 Die Parade) (TV) als Dean Bristol
Originaltitel: The Game (TV)
2007 - 2008
The Riches (TV) als Dale Malloy
Originaltitel: The Riches (TV)
2008
The Middleman (#1.05 The Flying Fish Zombification) (TV) als Mr. White
Originaltitel: The Middleman (TV)
2008
Psych (#3.01 Geister) (TV) als Frankjim Ogletree
Originaltitel: Psych (TV)
2008
Surfer, Dude als Vic Hayes
Originaltitel: Surfer, Dude
2008
Life (#2.03 Eiskalt) (TV) als James Brenford
Originaltitel: Life (TV)
2008
Supernatural (#4.05 Monsterfilm) (TV) als Dracula
Originaltitel: Supernatural (TV)
2008
Ghost Whisperer - Stimmen aus dem Jenseits (#4.08 Herz & Seele (TV) als Alan Walters
Originaltitel: Ghost Whisperer (TV)
2008
Terminator: S.C.C. (#2.11 Self Made Man) (TV) als Myron Stark / T-888
Originaltitel: Terminator: The Sarah Connor Chronicles (TV)
2007
Ich, du und der Andere als Tony
Originaltitel: You, Me and Dupree
2006 - 2007
Familienstreit de luxe (TV) als Jeff
Originaltitel: The War at Home (TV)
2007
Live! als Dave
Originaltitel: Live!
2005 - 2007
Weeds - Kleine Deals unter Nachbarn (#1.09 Der Feuerteufel & #3.04 Neue Nachbarn) (TV) als Sicherheitsmann
Originaltitel: Weeds (TV)
2007
Burn Notice (#1.12 Sackgasse (2)) (TV) als Carmelo
Originaltitel: Burn Notice (TV)
2006
Community Service als Kirk
Originaltitel: Community Service
2006
Crossing Jordan - Pathologin mit Profil (#5.10 Pension des Grauens) (TV) als Raleigh
Originaltitel: Crossing Jordan (TV)
2005 - 2006
Still Standing (TV) als Kyle Polsky
Originaltitel: Still Standing (TV)
2006
Four Kings (TV) als Iguana Typ
Originaltitel: Four Kings (#1.07 Night of the Iguana) (TV)
2006
How I Met Your Mother (#2.08 Atlantic City) (TV) als Captain Steve
Originaltitel: How I Met Your Mother (TV)
2006
Studio 60 on the Sunset Strip als Bill
Originaltitel: Studio 60 on the Sunset Strip (#1.10 B-12) (TV)
2006
The Air I Breathe als Frank
Originaltitel: The Air I Breathe
2005
Out of Practice - Doktor, single, sucht... (#1.18 Mein Patient, dein Patient) (TV) als Frankie
Originaltitel: Out of Practice (TV)
2005
Rodney (#1.14 Der Junggesellenabend &1.16 Valentinstag) (TV) als Kirk
Originaltitel: Rodney (TV)
2005
CSI: NY (#2.02 Kunstfehler) (TV) als Ira Feinstein
Originaltitel: CSI: NY (TV)
2004
Ein Witzbold namens Carey (TV) als Tyler
Originaltitel: The Drew Carey Show (#9.18 Still Life with Freeloader) (TV)
2004
The Wrong Coast (TV) als verschiedene Stimmen
Originaltitel: The Wrong Coast (TV)
2004
Monk (#3.03 Mr. Monk und der Stromausfall) (TV) als Winston Brenner
Originaltitel: Monk (TV)
2004
...und dann kam Polly als Sicherheitsmann
Originaltitel: Along Came Polly
2004
CSI: Miami (#2.16 Weiße Spur (TV) als Steve Davis
Originaltitel: CSI: Miami (TV)
2004
Jordan Superstar als Len
Originaltitel: Jordan Superstar
2004
Boston Legal (#1.01 Revierkämpfe) (TV) als Matthew Calder
Originaltitel: Boston Legal (TV)
2004
Star Trek - Enterprise (#4.09 Kir'Shara) (TV) als Talok
Originaltitel: Star Trek: Enterprise
2003
These Guys
Originaltitel: These Guys
2002 - 2003
American Dreams (TV)
Originaltitel: American Dreams (TV)
2003
Criminal Intent - Verbrechen im Visier (#2.22 Niedere Instinkte) (TV) als Dr. Scott Borman
Originaltitel: Criminal Intent (TV)
2003
Welcome to the Jungle als Manager
Originaltitel: Welcome to the Jungle
2003
The Guardian - Retter mit Herz (#3.05 Eine peinliche Geschichte & #3.12 Wiedergutmachung) (TV) als Jed Tobin
Originaltitel: The Guardian (TV)
2003
Malcolm Mittendrin (#5.06 Malcolms Job) (TV) als Nate
Originaltitel: Malcolm in the Middle (TV)
2002
Scream at the Sound of the Beep als Romero
Originaltitel: Scream at the Sound of the Beep
2002
L.A.X. als Gruber
Originaltitel: L.A.X.
2002
CSI: Den Tätern auf der Spur (#3.01 Rache ist süß) (TV) als Matt
Originaltitel: CSI: Crime Scene Investigation (TV)
2002
Drei Ladies Undercover (#1.06 Die Lachgas-Nummer) (TV)
Originaltitel: She Spies (TV)
2002
MDs (TV) als Ribeye
Originaltitel: MDs (TV)
2001
Close to Home als Jerome
Originaltitel: Close to Home
2001
Titus (#2.10 Der Preis ist heiß) (TV) als Chad
Originaltitel: Titus
2001
Providence (#3.12 Nächster Anlauf) (TV) als Vic
Originaltitel: Providence (TV)
2001
Will & Grace (#3.20 Alice Doesn't Lisp Here Anymore) (TV) als Gabe Robinson
Originaltitel: Will & Grace (TV)
2001
Buffy - Im Bann der Dämonen (#6.04 Geld und andere Sorgen) (TV) als M'Fashnik Dämon
Originaltitel: Buffy the Vampire Slayer (TV)
2001
Dark Angel (#2.05 Halloween-Albtraum) (TV) als Sally
Originaltitel: Dark Angel (TV)
2001
Dharma & Greg (#5.12 Kompliziertes Universum) (TV) als Gunther
Originaltitel: Dharma & Greg (TV)
2000
Angel - Jäger der Finsternis (#1.22 Duell mit dem Bösen) (TV) als Vocah Dämon
Originaltitel: Angel (TV)
2000
Diagnose: Mord (#8.07 Mord im Container) (TV) als Robert Warbler
Originaltitel: Diagnosis Murder (TV)
1999
Lucid Days in Hell als Max
Originaltitel: Lucid Days in Hell
1999
Law & Order: Special Victims Unit (#1.03 Schönheit hat ihren Preis) (TV) als Ricky Blaine
Originaltitel: Law & Order: Special Victims Unit (TV)
1998
Law & Order (#8.14 Das blaue Zimmer) (TV) als Roger Appel
Originaltitel: Law Order (TV)
1998
Whacked als Franky
Originaltitel: Whacked
1998
Chaos City (#3.10 Familienbande) (TV) als TV-Regisseur
Originaltitel: Chaos City (TV)
1997
Remember WENN (TV) als Link
Originaltitel: Remember WENN (#3.09 A Star in Stripes Forever) (TV)
Steckbrief
| | | |
| --- | --- | --- |
| Geburtstag | | 16.10.1968 |
| Geburtsort | | Chicago, Illinois, USA |
Aktuelle Kommentare

17.01.2021 22:36
Das hilft dann schon mal weiter, weil Emilio in Episode...
von Catherine

16.01.2021 10:31
"denn die inhaltliche Dichte ist durch die Vielzahl von...
von Irina S.
mehr Kommentare
Verpasst keine News und Updates