Curb Your Enthusiasm - Lass es, Larry!
In "Curb Your Enthusiasm" verarbeitet der Autor Larry David seine Erlebnisse nach dem Ende der 90er-Jahre Hit-Sitcom "Seinfeld", die er entwickelte, schrieb und produzierte. Das Multitalent spielt sich darin selbst und kann dort seine zahlreichen Neurosen und Marotten zur Schau stellen. Viele seiner Promi-Freunde spielen sich darin selbst und die halbstündige Comedyserie lief ab dem 15. Oktober 2000 sehr erfolgreich. In Deutschland war die Serie unter dem Titel "Lass es, Larry!" ab 2006 über das Handynetz von Vodafone anschaubar und wurde ab Mai 2008 auf dem Pay TV-Sender FOX Channel übertragen.

Die Serie nahm diverse Awards mit nach Hause, darunter je einen Emmy und einen Golden Globe, und war unzählige Male für Preise nominiert. Die Serie ist sogar so beliebt, dass sie eine eigene Wortkreation verdient hat. Man bezeichnet etwas als "Larry-David-Moment", wenn jemand unabsichtlich in der Gesellschaft anderer eine unangenehme Situation herbeigeführt hat.

---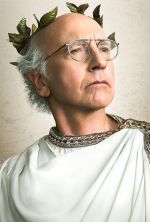 Larry David, Lass es, Larry!
© 2018 Home Box Office, Inc. All rights reserved. HBO® and all related programs are the property of Home Box Office, Inc.
Serienmacher: Larry David
US-Starttermin: 15.10.2000 auf HBO
D-Starttermin (Pay-TV): 19.05.2008 auf FOX Channel
Staffeln:


Status: verlängert um Staffel 12

News zur Serie:

"Curb Your Enthusiasm" ansehen:
---
Larry David ist der Erfinder von "Seinfeld" und verdient heute noch Millionen an Tantiemen. Er hat alles, was man sich nur erträumen kann. Geld, ein riesiges Haus, eine wunderschöne Frau und viele Freunde, darunter sein Manager Jeff Greene. Doch immer wieder stößt er Freunden und Familie vor den Kopf, wodurch er sie an den Rande des Wahnsinns treibt... mehr


Der Hauptcast von "Lass es, Larry!" ist extrem klein, denn der Fokus liegt auf Larry David selbst, dem die Rolle wortwörtlich auf den Leib geschrieben wurde. Für Cheryl Hines ist ihre Rolle in der Comedy das erste große Engagement, seit Beginn der Serie war sie jedoch auch in anderen Produktionen zu sehen, und Jeff Garlin war zuvor bereits in der Sitcom "Verrückt nach dir"... mehr


In "Curb Your Enthusiasm" dreht sich alles um den "Seinfeld"-Erfinder Larry David und seine hübsche Frau Cheryl. Der neurotische Dickkopf bringt sich und seine Frau zeitweise in sehr unangenehme Situationen, da er stets auf seiner Meinung beharrt und sich gesellschaftlichen Konventionen, die er so nicht anerkennen will, einfach nicht anpasst... mehr

Nadine meint: In den für Serienjunkies eher lauen Sommermonaten probiert man ja so einiges aus und, da ich im letzten Sommer gute Erfahrungen mit Comedyserien gemacht habe und schon ewig mal "Seinfeld" schauen wollte, habe ich mir "Curb Your Enthusiasm" von und mit "Seinfeld"-Erfinder Larry David angesehen... mehr

Kommentare
Meistgelesen
Aktuelle Kommentare
Verpasst keine News und Updates