The L Word: Generation Q - Kurzreview
#1.06 Lose Enden
In unseren Kurzreviews schildern unsere Autoren ihren ersten Eindruck von einer Episode. Nutzt die Gelegenheit, eure Meinung zu dieser Episode kundzutun und mit uns über die Serie zu diskutieren.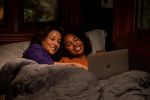 Jennifer Beals & Jordan Hull, The L Word: Generation Q
© 2019 Showtime Networks Inc; Hilary B Gayle/SMPSP
Ehrlich gesagt hatte ich mit dem deutschen Titel dieser Episode ein paar Schwierigkeiten, da ich die Geschehnisse gar nicht als lose Enden ansehen würde. Vielmehr betreibt "The L Word: Generation Q" auch dieses Mal 'Aufräumarbeiten'. Mir war vollkommen klar, dass nach dem Cliffhanger der letzten Episode Bettes (Jennifer Beals) Kandidatur für das Bürgermeisteramt hier und da Risse bekommen hat. Zumal man ihr jetzt auch noch andichten wollte, absichtlich gehandelt zu haben – vollkommener Quatsch, da jede (gute) Mutter ihr Kind verteidigt hätte. Bette sieht sich zwar zeitweise als schlechte Mutter und will ihre Kandidatur niederlegen, ich bin aber froh, dass Angie (Jordan Hull) und Tina (Laurel Holloman) ihr gut zugesprochen haben. Tinas Auftauchen hat mich überrascht, ebenso ihre Gespräche mit Bette. Hier muss ich Bette zustimmen, denn auch wenn die Scheidung von ihrer Frau schwierig für sie gewesen ist, so war Kits (Pam Grier) Tod doch viel schlimmer, wo sie Tina einfach gebraucht hätte. Ich bin mal gespannt, wie die beiden nun agieren werden. Sehr gut haben mir Shane (Katherine Moennig) und Quiara (Lex Scott Davis) gefallen, die für Angie da gewesen sind und ihr Tipps bzgl. Jordi (Sophie Giannamore) gegeben haben. Vielleicht kommt Shane ja doch noch zu dem Entschluss, Kinder zu wollen. Diese Episode bietet gleich mal mehrere Sorgenkinder: Sophies (Rosanny Zayas) und Danis (Arienne Mandi) Beziehung steht meiner Meinung nach unter keinem guten Stern mehr. Dass sich Danis Vater Rodolfo Nùñez (Carlos Leal) eingemischt hat, hat für Risse gesorgt und ich bin mehr nicht sicher, ob die sich so leicht reparieren lassen. Auch Alice (Leisha Hailey), Gigi (Sepideh Moafi) und Nat (Stephanie Allynne) hatten einige Stolperstellen und ich frage mich, ob die Versöhnlichkeit von langer Dauer sein wird. Interessant wird es sicher auch bei Tess (Jamie Clayton), die offenbar wieder in ihre Alkoholsucht abrutscht.

Weitere Reviews zu Staffel 1 von "The L Word: Generation Q":
#1.01 | #1.02 | #1.03 | #1.04 | #1.05 | #1.06 | #1.07 | #1.08
"The L Word: Generation Q" ansehen:
Eure Meinung ist gefragt!
Diskutiert mit uns in den Kommentaren über die "The L Word: Generation Q"-Episode #1.06 Lose Enden.

Wieviele Sterne gibst du der Episode?
Ergebnisse:
Daniela S. - myFanbase

Zur "The L Word: Generation Q"-Reviewübersicht
Kommentare
Meistgelesen
Aktuelle Kommentare

24.05.2020 11:46
Das ist tatsächlich etwas unglücklich gelöst, weil nicht...
von Lena

21.05.2020 23:00
Als ich eben den Titel gelesen hatte, musste ich an...
von Chili vanilli
mehr Kommentare
Verpasst keine News und Updates