The L Word: Generation Q - Kurzreview
#1.02 Leichen im Keller
In unseren Kurzreviews schildern unsere Autoren ihren ersten Eindruck von einer Episode. Nutzt die Gelegenheit, eure Meinung zu dieser Episode kundzutun und mit uns über die Serie zu diskutieren.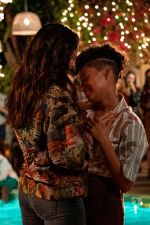 Arienne Mandi & Rosanny Zayas, The L Word: Generation Q
© 2019 Showtime Networks Inc; Hilary Bronwyn Gayle/SHOWTIME
Im Piloten wurde schon klar, dass Danis (Arienne Mandi) Entscheidung, bei Bette (Jennifer Beals) anzufangen, bei ihrem Vater sicherlich nicht auf Jubelschreie hinauslaufen wird, allerdings hätte ich nicht gedacht, dass das Verhältnis der beiden so abkühlen würde. Sehr gut hat mir Bette gefallen, die nochmals unterstrichen hat, weshalb sie als Bürgermeisterin gewählt werden sollte. Die emotionale Seite steht ihr sehr gut. Ich frage mich allerdings auch, ob das Treffen mit ihrer ehemaligen Affäre nicht doch noch Konsequenzen nach sich ziehen wird. Emotional wurde es auch bei Shane (Katherine Moennig), die damit ebenfalls eine neue Seite von sich zeigt und ich würde mich freuen, wenn man hier noch etwas tiefer gehen würde und den wahren Grund für die Trennung von ihrer Frau erfährt. Überrascht war ich von dem Gespräch zwischen Alice (Leisha Hailey) und Gigi (Sepideh Moafi), nachdem man durch die Flashbacks einen völlig anderen Eindruck bekommen hat.

Weitere Reviews zu Staffel 1 von "The L Word: Generation Q":
#1.01 | #1.02 | #1.03 | #1.04 | #1.05 | #1.06 | #1.07 | #1.08
"The L Word: Generation Q" ansehen:
Wieviele Sterne gibst du der Episode?
Ergebnisse:
Eure Meinung ist gefragt!
Diskutiert mit uns in den Kommentaren über die "The L Word: Generation Q"-Episode #1.02 Leichen im Keller.

Daniela S. - myFanbase

Zur "The L Word: Generation Q"-Reviewübersicht
Kommentare
Meistgelesen
Aktuelle Kommentare

03.07.2020 19:01
Liebe Catherine,Die Serie beginnt ja ohne...
von Cherubino

03.07.2020 18:31
Versuche mich gerade zu erinnern wann und ob ich schon...
von Christian
mehr Kommentare
Verpasst keine News und Updates