"The Woman in the House Across the Street from the Girl in the Window" mit Kristen Bell erhält Starttermin von Netflix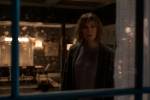 Kristen Bell, The Woman in the House Across the Street From the Girl in the Window
© 2021 Netflix, Inc.; Colleen E. Hayes/Netflix
Der Streamingdienst Netflix hat einen Starttermin für "The Woman in the House Across the Street from the Girl in the Window" mit Kristen Bell in der Hauptrolle festgelegt und einen Teaser veröffentlicht (siehe unten).

Los geht's dann am 28. Januar 2022.

Die Serie ist eine schwarze Komödie, bei der Kristen Bell nicht nur die Titelrolle spielt, sondern auch als ausführende Produzentin tätig wird. Vorerst hat Netflix eine Miniserie mit acht Episoden in Auftrag gegeben. Rachel Ramras, Hugh Davidson und Larry Dorf sind als Serienmacher hierfür verantwortlich. Zudem ist Marti Noxon kreativ in das Projekt involviert.

Darum geht's: Anna (Bell) ist eine todunglückliche Frau, deren Leben sich jeden Tag gleich anfühlt. Täglich starrt sie mit einem Glas Wein in der Hand aus dem Fenster und sieht das Leben an sich vorbeiziehen, ohne daran teilzuhaben. Als dann jedoch ein gut aussehender Nachbar (Tom Riley) neu einzieht, scheint sie ein Licht am Ende des Tunnels zu entdecken. Bis zu dem Zeitpunkt, als sie Zeugin eines grausamen Mordes wird - oder hat sie es sich nur eingebildet?

Kristen Bell hatte Hauptrollen in "Veronica Mars", "House of Lies" und "The Good Place".
Externer Inhalt
An dieser Stelle ist Inhalt von einer anderen Website (z. B. YouTube, Twitter...) eingebunden. Beim Anzeigen werden deine Daten zu der entsprechenden Website übertragen.
Quelle: TVLine, Netflix
Daniela S. - myFanbase
08.12.2021 22:52
Weitere News
mehr News
Meistgelesen
Verpasst keine News und Updates