Basics
Mit "The Big Bang Theory" (2007 - heute) haben die erfahrenen Serienmacher Chuck Lorre und Bill Prady wieder einen großen Erfolg gelandet. Die Quoten wachsen stetig und erfreuen sowohl den Heimatsender CBS als auch die große Fangemeinde.

Inhalt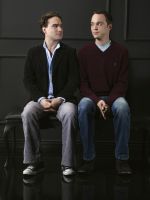 Johnny Galecki & Jim Parsons, The Big Bang Theory
© Warner Bros. Entertainment Inc.
Die beiden Freunde Leonard Hofstadter (Johnny Galecki) und Sheldon Cooper (Jim Parsons) sind geniale Physiker, die sich am Caltech Institute of Technology in L.A. in Quantenmechanik etc. austoben. Von Frauen haben sie keine Ahnung, doch das soll sich mit dem Einzug ihrer neuen Nachbarin Penny (Kaley Cuoco) nun ändern. Penny ist eine Kellnerin mit Ambitionen auf eine Schauspielkarriere, die gerade eine schwierige Trennung hinter sich hat und die Ablenkung durch die beiden Genies gut gebrauchen kann. Dabei werden sie von ihren anderen beiden Freunden Howard Wolowitz (Simon Helberg) und Rajesh Koothrappali (Kunal Nayyar) unterstützt. Während Howard ständig und überall, meist jedoch vergeblich, alles anbaggert, was bei zwei nicht auf den Bäumen ist, kann Raj überhaupt nicht mit attraktiven Frauen kommunizieren.

Leonard entwickelt bereits nach kurzer Zeit Gefühle für die hübsche Penny und macht ihr hin und wieder Avancen. Der fällt das jedoch nicht wirklich auf oder sie ignoriert es gekonnt. Obwohl sie häufig Probleme hat, mit den vier Freunden angemessen zu kommunizieren, freundet sie sich schon bald mit ihnen an und lädt sie auch zu Partys zu sich ein. Als Leonard vorübergehend einsieht, dass er bei Penny keine Chance hat, startet er Annäherungsversuche bei Leslie Winkle (Sara Gilbert). Sheldon hingegen zeigt so gar kein Interesse am weiblichen Geschlecht. Selbst als er auf einen wahr gewordenen Kindheitstraum in Form der indischen Zahnärztin Lalita (Sarayu Rao) trifft, versteht er nicht, warum er sich weiterhin mit ihr treffen sollte. Immerhin habe er bereits einen guten Zahnarzt...

Infos zur Serie
Genre: Comedy
US-Start/US-Sender: 24. September 2007 auf CBS
D-Start/D-Sender: 11. Juli 2009 auf ProSieben
Titelsong: "History of everything" von Barenaked Ladies

Nadine Watz - myFanbase

Meistgelesen
Aktuelle Kommentare
Verpasst keine News und Updates