Mance Rayder
"I told them we were all going to die if we don't get south. 'Cause that's the truth."

Mance Rayder ist ein ehemaliger Grenzer der Nachtwache, der seinen Eid brach und zu den Wildlingen jenseits der Mauer überlief. Dort entwickelte er sich schnell zu einem Anführer, welcher es vermochte, die verschiedenen Stämme der Wildlinge und auch die Riesen zu einer Armee mit einem gemeinsamen Ziel zu vereinen. Als neuer "König jenseits der Mauer" erhebt er für die Wildlinge Anspruch auf deren ursprüngliche Heimat und plant in die Sieben Königreiche einzufallen.

Im Lager der Wildlinge ist Mance in seinem Zelt, als der Herr der Knochen und Ygritte ihm Jon Schnee bringen. Jener hält zunächst Tormund Riesentod für den Anführer der Wildlinge, was die Anwesenden zum lachen bringt. Mance offenbart sich schließlich Jon und dankt diesem für den Tod von Qhorin Halbhand. Er fragt Jon, warum dieser sich den Wildlingen anschließen möchte und gibt sich mit dessen erster Antwort nicht zufrieden. Mance entschließt sich erst Jon in seinen Reihen Willkommen zu heißen, als dieser seinen Entschluss damit rechtfertigt, lieber für die Lebenden kämpfen anstatt für die Nachtwache zu wollen, da der Lord Kommandant stillschweigend Crasters Methoden toleriert. Mance sieht Jon seine Ehrlichkeit an und sie schütteln sich die Hände.

Zu Mances Gefolgschaft gehört ebenfalls der Warg Orell, welcher für den Anführer der Wildlinge durch seinen Falken die Faust der ersten Menschen auskundschaftet und von den toten Krähen Vorort berichtet. Mance beschließt sich selbst ein Bild zu machen und findet nur abgetrennte Pferdeköpfe im Schnee vor, da die Weißen Wanderer die Leichen der Männer der Nachtwache in die Reihen ihrer Wiedergänger aufgenommen haben. Mance sendet daraufhin Tormund mit Jon und weiteren Wildlingen aus, um die Mauer zu erklimmen und die Schwarze Festung zu erobern. Orell soll jeden Abend seinen Falken aussenden und auf das Signalfeuer warten, welches das Zeichen für den Angriff bildet.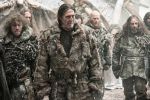 Ciarán Hinds, Game of Thrones
© 2013 Home Box Office, Inc. All rights reserved. HBO® and all related programs are the property of Home Box Office, Inc.; Sky
Nach der Schlacht um die Schwarze Festung geht Jon auf sich allein gestellt in Mance Rayders Lager, um mit ihm über die Beerdigung der Toten zu verhandeln. Mance gesteht, dass er traurig über Jons Verrat ist und jener informiert ihn über Ygrittes Tod. Dann trinken sie auf die Gefallenen und Mance fügt hinzu, dass die Nachtwächter tapfer gekämpft haben. Mance will wissen, was mit dem Riesen passiert ist und Jon berichtet von Grenns Heldentat. Dann verlangt Jon von Mance, dass die überlebenden Wildlinge zurück jenseits der Mauer kehren, aber Mance weiß, dass die Nachtwache ebenso ausgeschöpft ist wie seine Männer. Außerdem hat Mance schon den nächsten Angriff mit 400 Wildlingen geplant. Dann eröffnet er Jon ein Ultimatum: Sie sollen die Tore öffnen und die Wildlinge hereinlassen, dann stirbt niemand. Dabei kommt heraus, was Mance wirklich will. Er möchte sich und seine Männer vor den Weißen Wanderern schützen und in den Süden fliehen. Jon entdeckt das Messer auf dem Tisch und bevor er es greifen möchte, fragt Mance ihn, ob er wirklich den Mann töten will, mit dem er Essen geteilt und ums Überleben gekämpft hat.

Sie werden von einem tönenden Horn unterbrochen und Stannis Baratheon marschiert in das Camp. Mances Männer sind ihnen unterlegen und sie legen ihre Waffen nieder. Dann marschiert Mance auf Stannis zu und sagt, dass seine Männer genug geblutet hätten und gibt sich geschlagen. Doch niederzuknien widerstrebt ihm und obwohl er weiß, dass Stannis ihn auf der Stelle töten könnte, sagt Mance, dass es keinen König jenseits der Mauer gibt. Jon schafft es Stannis zu überreden, Mance nicht zu töten, sondern als Gefangenen zu nehmen.

Charleen Winter & Tanya Sarikaya - myFanbase

Meistgelesen
Aktuelle Kommentare

18.06.2021 10:07
Hab gelesen dass es am 14.7. weitergeht :-)
von Sonia

16.06.2021 11:49
Damit sollten wohl die Tage von "The Blacklist" nach...
von Lena
mehr Kommentare
Verpasst keine News und Updates