Elizabeth Banks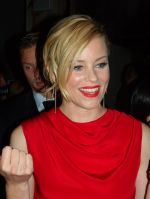 Elizabeth Banks bei der "Die Tribute von Panem: Mockingjay Teil 1"-Deutschlandpremiere am 11.11.2014 in Berlin
© myFanbase/Sanny Binder
Elizabeth Banks wurde am 10. Februar 1974 in Pittsfield, Massachusetts unter dem Namen Elizabeth Maresal Mitchell geboren. Ihre Schullaufbahn beendete sie 1992 mit der Highschool, auf die die University of Pennsylvania folgte. Bis 1998 studierte Elizabeth schließlich Schauspiel am American Conservatory Theater in San Francisco.

Nachdem sie nach New York ging, um unter ihrem Mädchennamen eine Laufbahn auf der Bühne zu starten, kam es auch erstmals schon zu kleinen Rollen fürs Fernsehen, was schließlich ihr Schwerpunkt werden sollte. Sie suchte nach besseren Rollenangeboten, zog nach Los Angeles und arbeitete von da an unter dem Pseudonym Elizabeth Banks.

Der Schauspielerin gelang der Durchbruch mit mehreren Filmen wie "Stürmischen Liebe – Swept Away" und "Seabiscuit – Mit dem Willen zum Erfolg" und mit "The Baxter" aus dem Jahre 2005 und "Slither – Voll auf den Schleim gegangen" (2006) ergatterte sie erste Hauptrollen. An dem Blockbuster "Spider-Man" sowie den zwei Fortsetzungen "Spider-Man 2" und "Spider-Man 3" war sie ebenfalls beteiligt. Es folgten weitere große Kinoprojekte wie "72 Stunden - The Next Three Days" und "Die Tribute von Panem - The Hunger Games".

Im Fernsehen war sie von 2006 bis 2007 in "Scrubs - Die Anfänger" als Dr. Kim Briggs zu sehen und von 2010 bis 2011 in "30 Rock" als Avery Jessup.

Ihr Privatleben läuft ähnlich erfolgreich. Sie gab Max Handelman, den sie bereits auf dem College kennengelernt hatte, am 5. Juni 2007 ihr Ja-Wort. Banks und Handelman haben zwei Kinder, die über eine Leihmutter zur Welt gekommen sind, nämlich Felix und Magnus Mitchell.

Niko Nikolussi & Emil Groth - myFanbase
Ausgewählte Filmographie (Schauspieler)
2020
Mrs. America (TV) als Jill Ruckelshaus
Originaltitel: Mrs. America (TV)
2009 - 2020
Modern Family (TV) als Sal
Originaltitel: Modern Family (TV)
2017
Lass es, Larry! (TV) als Elizabeth Banks
Originaltitel: Curb Your Enthusiasm (#9.03 A Disturbance in the Kitchen) (TV)
2017
Wet Hot American Summer: 10 Jahre später (TV) als Lindsay
Originaltitel: Wet Hot American Summer: Ten Years Later (TV)
2015
Wet Hot American Summer: First Day of Camp (TV) als Lindsay
Originaltitel: Wet Hot American Summer: First Day of Camp (TV)
2015
Moonbeam City (TV) als Pizzaz Miller (Stimme)
Originaltitel: Moonbeam City (TV)
2015
Die Tribute von Panem - Mockingjay Teil 2 als Effie Trinket
Originaltitel: The Hunger Games: Mockingjay - Part 2
2015
The Muppets (TV) als Elizabeth Banks
Originaltitel: The Muppets (#1.00 Pilot & #1.01 Pig Girls Don't Cry) (TV)
2015
Magic Mike XXL als Paris
Originaltitel: Magic Mike XXL
2015
Pitch Perfect 2 als Gail
Originaltitel: Pitch Perfect 2
2014
Mädelsabend - Nüchtern zu schüchtern! als Meghan Miles
Originaltitel: Walk of Shame
2014
Die Tribute von Panem - Mockingjay Teil 1 als Effie Trinket
Originaltitel: The Hunger Games: Mockingjay - Part 1
2014
Lego Movie als Wyldstyle / Lucy (Stimmen)
Originaltitel: The Lego Movie
2013
Die Tribute von Panem - Catching Fire als Effie Trinket
Originaltitel: The Hunger Games: Catching Fire
2013
Movie 43 als Amy
Originaltitel: Movie 43
2010 - 2012
30 Rock (TV) als Avery Jessup
Originaltitel: 30 Rock (TV)
2012
Die Tribute von Panem - The Hunger Games als Effie Trinket
Originaltitel: The Hunger Games
2012
Was passiert, wenn's passiert ist als Wendy
Originaltitel: What to Expect, When You're Expecting
2012
Zeit zu leben als Frankie
Originaltitel: People Like Us
2012
Robot Chicken (TV) als Mrs. Claus / Shana 'Scarlett' O'Hara (Stimmen)
Originaltitel: Robot Chicken (#6.13 Robot Chicken's ATM Christmas Special) (TV)
2012
Family Guy (TV) als Pam Fishman (Stimme)
Originaltitel: Family Guy (#11.01 Into Fat Air) (TV)
2012
Pitch Perfect als Gail
Originaltitel: Pitch Perfect
2012
Ein riskanter Plan als Lydia Mercer
Originaltitel: Man on a Ledge
2011
72 Stunden - The Next Three Days als Lara Brennan
Originaltitel: The Next Three Days
2011
Our Idiot Brother als Miranda Rochlin
Originaltitel: Our Idiot Brother
2011
Liebe und andere Kleinigkeiten als Nealy Lang
Originaltitel: The Details
2010
The Details als Nealy
Originaltitel: The Details
2009
Lovely, Still als Alex
Originaltitel: Lovely, Still
2006 - 2009
Scrubs - Die Anfänger (TV) als Dr. Kim Briggs
Originaltitel: Scrubs(TV)
2009
Vorbilder?! als Beth
Originaltitel: Role Models
2008
Zack and Miri Make a Porno als Miri
Originaltitel: Zack and Miri Make a Porno
2008
The H-Man Cometh
Originaltitel: The H-Man Cometh
2008
Little Big Men
Originaltitel: Little Big Men
2008
Starship Dave
Originaltitel: Starship Dave
2008
A Tale of Two Sisters als Rachael
Originaltitel: A Tale of Two Sisters
2008
Vielleicht, vielleicht auch nicht als Emily
Originaltitel: Definitely, Maybe
2008
Comanche Moon (TV) als Maggie
Originaltitel: Comanche Moon (TV)
2008
W. - Ein missverstandenes Leben als Laura Bush
Originaltitel: W.
2007 - 2008
American Dad (TV) als div. Stimmen
Originaltitel: American Dad (TV)
2007
Die Gebrüder Weihnachtsmann als Charlene
Originaltitel: Fred Claus
2007
Bill als Jess
Originaltitel: Bill
2007
Wainy Days (#1.01 Shelly und #1.02 The Date) (TV) als Shelly
Originaltitel: Wainy Days (#1.01 Shelly und #1.02 The Date) (TV)
2007
Spider-Man 3 als Betty Brant
Originaltitel: Spider-Man 3
2006
Unbesiegbar - Der Traum seines Lebens als Janet Cantrell
Originaltitel: Invincible
2006
Slither - Voll auf den Schleim gegangen als Starla Grant
Originaltitel: Slither
2005
Daltry Calhoun als May
Originaltitel: Daltry Calhoun
2005
Jungfrau (40), männlich, sucht als Beth
Originaltitel: The 40 Year Old Virgin
2005
Stella (#1.06 Meeting Girls) (TV) als Tamara
Originaltitel: Stella (#1.06 Meeting Girls) (TV)
2005
The Baxter als Caroline Swann
Originaltitel: The Baxter
2005
The Sisters als Nancy Pecket
Originaltitel: The Sisters
2005
Sexual Life als Sarah
Originaltitel: Sexual Life
2005
Heights als Isabel
Originaltitel: Heights
2004
Spider-Man 2 als Betty Brant
Originaltitel: Spider-Man 2
2003
Seabiscuit - Mit dem Willen zum Erfolg als Marcela Howard
Originaltitel: Seabiscuit
2003
The TradeSioux Sever
Originaltitel: The TradeSioux Sever
2002
Stella Shorts 1998-2002 als Frau im Yoga-Unterricht
Originaltitel: Stella Shorts 1998-2002
2002
Catch me if you can - Mein Leben auf der Flucht als Lucy
Originaltitel: Catch me if you can
2002
Without a Trace - Spurlos verschwunden (TV) als Clarissa
Originaltitel: Without a Trace (TV)
2002
Stürmische Liebe - Swept away als Debi
Originaltitel: Swept Away
2002
Spider-Man als Betty Brant
Originaltitel: Spider-Man
2001
Law & Order: New York (TV) als Jaina Jansen
Originaltitel: Law & Order: Special Victims Unit (#3.07 Sacrifice) (TV)
2001
Ordinary Sinner als Rachel
Originaltitel: Ordinary Sinner
2001
Wet Hot American Summer als Lindsay
Originaltitel: Wet Hot American Summer
2000
Shaft - Noch Fragen? als Treys Freundin
Originaltitel: Shaft
2000
Sex and the City (#3.02 Sex und Politik) (TV) als Catherine
Originaltitel: Sex and the City (TV)
1999
Third Watch - Einsatz am Limit (TV) als Elaine Elchisak
Originaltitel: Third Watch (1.03 Patterns) (TV)
1998
Surrender Dorothy als Vicki
Originaltitel: Surrender Dorothy
Steckbrief
| | | |
| --- | --- | --- |
| Geburtstag | | 10.02.1974 |
| Geburtsort | | Pittsfield, Massachusetts, USA |
Aktuelle Kommentare
Verpasst keine News und Updates