Exclusive interview with Ian Bohen
October 19, 2013 | Being as charismatic an actor as Ian Bohen comes in handy when playing a cunning and quick-witted character such as Peter Hale on the MTV mystery show "Teen Wolf". Some might also remember Bohen as Roy Hazelitt on the first season of "Mad Men". In our interview Ian talks a little about "Teen Wolf's" formula for success, gives a few hints about season 3B and reveals who his favorite person on set is.

---
Note: © myFanbase 2013 - The interview is exclusive to myFanbase and may not be published on other websites or the like. You may share the first two questions if you link back to this site. Translations other than English and German may be posted with full credit including the writer's name and link to this site.
---
1. Your character Peter Hale on "Teen Wolf" is a scheming, shifty bad guy that viewers not only hate to love but really love. What do you love most about playing Peter Hale in the three seasons so far?

Peter has some of the best lines written for him of any character on the show. It's wonderful to play such a manipulative, ostensibly "bad guy" with no judgment on the character at all on my part. I get to let him be him, with all his wants and motivations and foibles, and try to make a complete person out of someone who would otherwise be loathed for his actions. It's a lot of fun to not have to apologize for yourself.

2. Peter Hale's journey is still quite a mystery. He was a real bad guy in the beginning, very inscrutable in season 2 but he did some good in season 3A without obvious ulterior motives. What's your take on him, is there a little good in Peter Hale?

There's good in everyone. No one thinks they're bad. Not even the truest bad guys. Peter's perfectly self-absorbed and in that sense, he's very authentic to himself, he just ends up hurting others for for his own causes. But I guarantee you'll see that there's love in his heart for others.

3. Peter used quite a scary approach to make Lydia help bring him back. But when he met her again in season 3A wasn't there a little hint of him being regretful?

There was. We shot that scene with a couple different approaches and the one you saw was the final. When we are asked for options, I know they are working out the future so I do my best to give them different choices and let the bigger picture determine the final vision.

4. It seems to me that if the "You? - Me!" scene would have played out a little longer we might have witnessed a brilliant sass-off. Is there any kind of follow-up on the horizon?

In the episode that we're currently shooting, you're going to see a whole lot more Peter/Lydia.

5. In the flashback episode in 3A the way Peter told Derek's story it felt more like he was telling his own story. Was that a deliberate thing?

Peter is always certain. He tells you versions of things to affect an outcome that's ultimately best for him. He's working the long game and I don't think we'll see the goal until much farther down the line.

6. Derek's alpha powers never matched Peter's powers we saw in season one. Will we learn if this was connected to what Peter shouts out in the finale "I've always been the alpha!" or if this is something special that only Peter and his sister Talia have / had?

I've asked this question to Jeff many times. It's always answered the same way. With a cheeky smile and quick exit.

7. "Teen Wolf" does an exceptionally good job involving the grownups in the action and the characters are so well written that not only the teen audience roots for them but they also keep viewers above 25 glued to the TV. What's your take on what makes the grownups so compelling?

The writers understand that an adult component to the show in incredibly important. It legitimizes "Teen Wolf" and prevents it being pegged as a kids show. Also, young people are smart. They live / deal with / interact with adults all the time. They're part of the same world. To exclude that dynamic would be a mistake. Thankfully our characters and story lines are written with effort and forethought. Working with a talented cast brings it to life, and the result is what you see.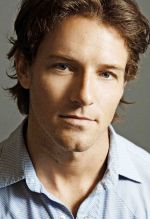 Ian Bohen
8. Your TV nephew Tyler Hoechlin seems to be a person who's really down-to-earth, he seems genuinely happy, humble and approachable, so on first look it seems he and Derek don't have much in common. What would you say, are there any qualities that Tyler and Derek share?

They're both very passionate about what they're doing. To the point of competitive, and a need to succeed. Losing / failure doesn't sit well with either. Also, I'm nearly certain each of them spends the same amount of time getting ready to go out. About an hour and 10 minutes.

9. Jeff Davis brings out the best of everything and everyone to make this exciting show and as someone growing up with Russell Mulcahy's 80s music videos and "Highlander" you notice his signature style in the look of the episodes. From script to screen, what do you think makes "Teen Wolf" so special?

First off, Russell Mulcahy is my favorite person on set. Second, ultimately the vision of the creators has been fulfilled. Their ideas and the tone are compelling. People can relate to the themes. They've cast the show flawlessly, they know how to make what they have in their heads a reality, and maybe most importantly, we have a lot of fun at work. It's a privilege to do this kind job and everyone wants to be there. Add it all up and it just works.

10. You played the part of Roy Hazelitt in the hobo storyline of "Mad Men" season 1. The guy Don Draper lost his mistress to. What was it like on set of the early "Mad Men"?

"Mad Men" was great. Back then no one knew what it would become so you had these guys (Matthew Weiner) with this idea, and they made their vision, which speaks for itself. I just showed up with these great actors and tried not to F it up. Jon Hamm was great as well. We play softball together on the weekends. Guy can hit.

11. Would you tell us three things that are currently on your bucket list?

3-week safari in Africa.

Directing a feature film.

Buy mom a house.

12. Do you like traveling? Have you ever been to Germany? What did you see or what would you like to see?

Traveling is my favorite thing to do when not working. Been lucky to visit, and or work everywhere from New Zealand, India, Hong Kong, Peru to Norway and Halifax and many others. Italy is the best place in the world. Haven't been to Germany, but have some things to do in Austria next year and I'm sure I'll pop over for some Strudel.

13. Since myFanbase is an online magazine about U.S. television shows, what are your favorite shows?

"American Horror Story"

"New Girl"

"Modern Family"

"Game of Thrones"

And this new show "The Blacklist" is great. James Spader is a badass.

Thank you, Ian, we wish you all the best for your future!

Nicole Oebel - myFanbase

Kommentare
Meistgelesen
Aktuelle Kommentare
Verpasst keine News und Updates