Michael Gladis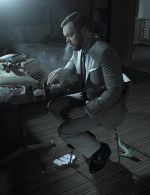 Michael Gladis
Der Schauspieler Michael Gladis ist alles andere als ein offenes Buch und gibt nur wenige private Informationen preis.

Er studierte an der State University of New York und begann seine Karriere vor der Kamera im Jahr 2003 mit einer Rolle in dem U-Boot-Thriller "K-19 - Showdown in der Tiefe" neben Liam Neeson und Harrison Ford. Im Jahr darauf wurde er für einen vier Episoden umfassenden Auftritt in der Serie "Third Watch - Einsatz am Limit" gecastet. Nach Gastrollen in "Criminal Intent - Verbrechen im Visier", "Hope & Faith" und "Life" fand er schließlich seinen Weg in den Cast der Erfolgsserie "Mad Men".

Auch auf der Theaterbühne hat Michael Gladis bereits seine Spuren hinterlassen und trat unter anderem in Stücken wie "Romeo und Julia", "5th of July" und "Princess Marjorie" auf. Er ist Teilhaber einer Theaterproduktionsfirma namens Partial Comfort Productions.

Maret Hosemann - myFanbase
Ausgewählte Filmographie (Schauspieler)
2020
Penny Dreadful: City of Angels (TV) als Councilman Charlton Townsend
Originaltitel: Penny Dreadful: City of Angels (TV)
2019
The Fix (TV) als Fred
Originaltitel: The Fix (TV)
2017
Lucifer (TV) als Sam
Originaltitel: Lucifer (#3.01 They're Back, Aren't They?) (TV)
2016
Feed the Beast (TV) als Patrick Woichik
Originaltitel: Feed the Beast (TV)
2016
Elementary (TV) als Rodger Stapleton
Originaltitel: Elementary (#4.16 Hounded) (TV)
2015
The Quest - Die Serie (TV) als Frankensteins Monster
Originaltitel: The Librarians (#2.02 And the Broken Staff) (TV)
2015
Extant (TV) als Nate Malone
Originaltitel: Extant (TV)
2015
House of Lies (TV) als John Andrews
Originaltitel: House of Lies (TV)
2015
Battle Creek (TV) als Robert
Originaltitel: Battle Creek (#1.04 Heirlooms) (TV)
2014
Reckless (TV) als Deputy Chief Holland Knox
Originaltitel: Reckless (TV)
2013
Knights of Badassdom als King Diamond
Originaltitel: Knights of Badassdom
2013
Revolution (#1.16 Level 12) (TV) als Militia Boat Captain
Originaltitel: Revolution (TV)
2013
The Mentalist (TV) als Curtis Wiley
Originaltitel: The Mentalist (#5.15 Red Lacquer Nail Polish) (TV)
2013
Justified (#4.07 Spiele der Reichen) (TV) als Kenneth
Originaltitel: Justified (TV)
2011 - 2012
Eagleheart (TV) als Chief
Originaltitel: Eagleheart (TV)
2012
Mad Men (#5.10 Crane Vs. Krishna) (TV) als Paul Kinsey
Originaltitel: Mad Men (TV)
2012
How I Met Your Mother (#7.20 Die Trilogie) (TV) als Chester
Originaltitel: How I Met Your Mother (TV)
2011
J. Edgar als Stork Club Owner
Originaltitel: J. Edgar
2011
Leverage (TV) als Reed Rockwell
Originaltitel: Leverage (#4.03 The 15 Minutes Job) (TV)
2011
Dr. House (#7.11 Spießrutenlauf) (TV) als Jaimie
Originaltitel: House M.D. (TV)
2010
Law & Order: New York (TV) als Bill Dixon
Originaltitel: Law & Order: Special Victims Unit (#12.06 Branded) (TV)
2010
Medium - Nichts bleibt verborgen (TV) als Dave Anderson
Originaltitel: Medium (#7.02 The Match Game) (TV)
2010
Criminal Intent - Verbrechen im Visier (TV) als Randall
Originaltitel: Law & Order: Criminal Intent (#9.07 Love Sick) (TV)
2007 - 2009
Mad Men (TV) als Paul Kinsey
Originaltitel: Mad Men (TV)
2009
Xavier: Renegade Angel (#2.07 Going Normal) (TV) als Mitarbeiter (Stimme)
Originaltitel: Xavier: Renegade Angel (#2.07 Going Normal) (TV)
2009
Good Wife (#1.10 Befangen) (TV) als Mark Richardson
Originaltitel: The Good Wife (TV)
2008
The Prisoner als The Interrogator
Originaltitel: The Prisoner
2007
Life (TV) als Dean Gill
Originaltitel: Life (#1.09 Serious Control Issues) (TV)
2005
Criminal Intent - Verbrechen im Visier (TV) als Donny
Originaltitel: Law & Order: Criminal Intent (#5.03 Prisoner) (TV)
2005
Hope & Faith (TV) als EMT
Originaltitel: Hope & Faith (#3.17 Charley's Shirt) (TV)
2004
Press Gang als Brian
Originaltitel: Press Gang
2003
Hack (TV) als Dan Kelley
Originaltitel: Hack (#2.05 Out of the Ashes) (TV)
2003
Third Watch - Einsatz am Limit (TV) als Eugene Rossi
Originaltitel: Third Watch
2002
K-19 - Showdown in der Tiefe als Yevgeny Borzenkov
Originaltitel: K-19: The Widowmaker
Bereiche
Aktuelle Kommentare

15.10.2021 12:56
Yay! Noch mehr für die Festplatte :-D hänge noch total...
von Sonia

14.10.2021 22:20
Endlich hatten wir Zeit weiterzuschauen und sind nun...
von Chili vanilli
mehr Kommentare
Verpasst keine News und Updates