Kenneth Mitchell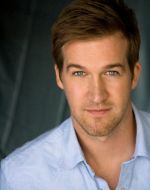 Kenneth Mitchell
Kenneth Alexander Mitchell wurde am 25. November 1974 in Toronto, Ontario, Kanada geboren.

Mitchell besuchte eine High School of Arts in Toronto, in der man von Schauspiel bis Malerei alles lehrte. Die Sommer verbrachte er im Kilcoo Camp in Minden und kümmerte sich zuerst um die Camper, ehe er zum Campinginstructor und Berater graduierte. Kenneth studierte fünf Jahre Landschaftsarchitektur - einschließlich ein Jahr Aufenthalt in Australien - und graduierte mit einer Silbermedaille bei der kanadischen Gesellschaft der Landschafts-Architekten. Nach der Graduierung arbeitete er sofort in einem Landschaftsfachbereich von ESG International Inc., einem sich in Guelph befindenden Umweltberatungsunternehmen, wo er Designs von Produktionsplänen ausarbeitete.

Als er noch in Guelph arbeitete, bekam er bereits zahlreiche Angebote für Fernsehspots von Kartoffelchips bis Bier. Kurze Zeit später traf er einen Agenten und begann mit ihm zusammenzuarbeiten, doch seine Entscheidung, es mit der Schauspielerei zu versuchen, fiel erst bei einem Date mit einer erfolgreichen kanadischen Schauspielerin. Mitchell nahm Schauspieltraining bei Leslie Kahn und John Cirigliano, Sprachtraining bei Rae Ellen Bodie und für die Szenen und Improvisation holte er sich Unterstützung bei David Rotenberg, Sheri Hollet und Brian Smith.

Solange ist Kenneth Mitchell noch nicht in der Filmbranche. Er spielte in zwei kurzlebigen Serien eine der Hauptrollen: "Leap Year" (2001) und "Odyssey 5" (2002). Außerdem hatte er auch einen Part in "Miracle" (2004) als Hockeyspieler. Für ihn als Kanadier, der in der Universität Hockey und Fußball spielte, war das ein Traumjob.

2006 war Kenneth ebenfalls in einzelnen Folgen der erfolgreichen US-Serien "CSI: Miami", "Grey's Anatomy - Die jungen Ärzte" in Episode #2.15 Streik und "The Unit - Eine Frage der Ehre" mit Dennis Haysbert und Scott Foley zu sehen. Anschließend wurde er für die Drama-Serie "Jericho - Der Anschlag" (2006) verpflichtet, in der er Eric Green darstellt. Zur Zeit dreht er gemeinsam mit Peter O'Toole die Drama-Miniserie "Iron Road".

Mitchell ist nicht nur vor der Kamera zu sehen, sondern auch auf der Bühne, so spielte er in Kevin McCormicks Stück "A Hatful of Rain" und David Rotenbergs Stücks "Death of a Salesman" die Hauptrolle.

Seit 2006 ist er mit der Schauspielerin Susan May Pratt ("Open Water 2") verheiratet. Ihre Tochter Lilah Ruby wurde am 7. Juli 2007 geboren; die Familie lebt in Los Angeles.

Dana Greve - myFanbase
Ausgewählte Filmographie (Schauspieler)
2017 - 2019
Star Trek: Discovery (TV) als Kol / Tenavik
Originaltitel: Star Trek: Discovery (TV)
2019
Captain Marvel als Joseph Danvers
Originaltitel: Captain Marvel
2017
'77 als John Dykstra
Originaltitel: '77
2016 - 2017
Frequency (TV) als Deacon Joe Hurley
Originaltitel: Frequency (TV)
2016
Notorious (TV) als Detective Matthews
Originaltitel: Notorious (TV)
2016
Code Black: Ärzte am Limit (TV) als Cory Rockman
Originaltitel: Code Black (#1.13 First Date) (TV)
2015
Major Crimes (TV) als Sam Curtis
Originaltitel: Major Crimes (#4.14 Taking the Fall) (TV)
2015
Minority Report (TV) als Brian Stanton
Originaltitel: Minority Report (#1.06 Fiddler's Neck) (TV)
2015
The Astronaut Wives Club (TV) als Deke Slayton
Originaltitel: The Astronaut Wives Club (TV)
2015
CSI: Cyber (TV) als Steve Reynolds
Originaltitel: CSI: Cyber (#1.01 Kidnapping 2.0) (TV)
2014
Switched at Birth (TV) als Wes Gable
Originaltitel: Switched at Birth (TV)
2014
Navy CIS als Nathan Curtis
Originaltitel: NCIS: Naval Criminal Investigative Service (#12.04 Choke Hold & #12.06 Parental Guidance Suggested) (TV)
2014
The Night Shift (TV) als George
Originaltitel: The Night Shift (#1.04 Grace Under Fire) (TV)
2013
Haven (TV) als Cliff
Originaltitel: Haven (#4.10 The Trouble with Troubles) (TV)
2013
Body of Proof (TV) als Robert Riley
Originaltitel: Body of Proof (#3.12 Breakout) (TV)
2013
Bones - Die Knochenjägerin (#8.23 Das Pathogen und die Pein) (TV) als Ben Carr
Originaltitel: Bones (TV)
2013
Monday Mornings (TV) als Asher Knox
Originaltitel: Monday Mornings (#1.10 Family Ties) (TV)
2013
Navy CIS: L.A. als Special Agent Danny Gallagher
Originaltitel: NCIS: Los Angeles (#4.18 Red (1)) (TV)
2012
CSI: Den Tätern auf der Spur als Dalton Burke
Originaltitel: CSI: Crime Scene Investigation (#13.10 Risky Business Class) (TV)
2012
Drop Dead Diva (TV) als Rick Keller
Originaltitel: Drop Dead Diva (#4.11 Family Matters) (TV)
2012
Grimm (TV) als Larry McKenzie / Bigfoot
Originaltitel: Grimm (#1.21 Big Feet) (TV)
2011
The Mentalist (TV) als Tom Wilcox
Originaltitel: The Mentalist (#4.10 Fugue in Red) (TV)
2011
Castle (#4.02 Helden und Bösewichter) (TV) als Paul Whittaker
Originaltitel: Castle (TV)
2011
Private Practice (#4.17 Die letzte Chance) (TV) als Elliott
Originaltitel: Private Practice (TV)
2010
Criminal Minds (TV) als Drew Jacobs
Originaltitel: Criminal Minds (#6.10 What Happens at Home...) (TV)
2010
Hawaii Five-0 als Craig Ellers / Paul Stark
Originaltitel: Hawaii Five-0 (#1.04 Lanakila) (TV)
2010
Lie to Me (TV) als Duane Corey
Originaltitel: Lie to Me (#2.17 Bullet Bump) (TV)
2009
Iron Road (TV) als Edgar
Originaltitel: Iron Road (TV)
2008 - 2009
Ghost Whisperer - Stimmen aus dem Jenseits (TV) als Sam Lucas
Originaltitel: Ghost Whisperer (TV)
2009
Meteor: Path to Destruction (TV) als Russ Hapscomb
Originaltitel: Meteor: Path to Destruction (TV)
2009
Without a Trace - Spurlos verschwunden (TV) als Derrek Wilson
Originaltitel: Without a Trace (#7.24 Undertow) (TV)
2009
Meteor (TV) als Russ Hapscomb
Originaltitel: Meteor (TV)
2006 - 2008
Jericho - Der Anschlag (TV) als Eric Green
Originaltitel: Jericho (TV)
2008
Flashpoint - Das Spezialkommando (TV) als Sgt. Pete Fitzhaven
Originaltitel: Flashpoint (#1.04 Asking for Flower) (TV)
2007
Home of the Giants als Keith Morrison
Originaltitel: Home of the Giants
2006
Grey's Anatomy - Die jungen Ärzte (#2.15 Streik) (TV) als Wade Solomon
Originaltitel: Grey's Anatomy (TV)
2006
CSI: Miami (#4.16 Abweichungen) (TV) als Robert Gordon
Originaltitel: CSI: Miami (TV)
2006
The Unit - Eine Frage der Ehre (#1.11 Die schöne Witwe) (TV) als Keith Soto
Originaltitel: The Unit (TV)
2005
Tennis, Anyone...? als Nick Allen
Originaltitel: Tennis, Anyone...?
2004
Miracle als Ralph Cox
Originaltitel: Miracle
2003
Der Einsatz als Alan
Originaltitel: The Recruit
2002
Charms for the Easy Life (TV) als Tom Hawkings III
Originaltitel: Charms for the Easy Life (TV)
2002
Odyssey 5 (TV) als Marc Taggart
Originaltitel: Odyssey 5 (TV)
2002
Why Don't You Dance als Chris
Originaltitel: Why Don't You Dance
2001
The Green als Ric
Originaltitel: The Green
2001
Leap Years (TV) als Spencer Matthew
Originaltitel: Leap Years (TV)
2000
No Man's Land als Soldat
Originaltitel: No Man's Land
Steckbrief
| | | |
| --- | --- | --- |
| Geburtstag | | 25.11.1974 |
| Geburtsort | | Toronto, Ontario, Kanada |
Aktuelle Kommentare

01.08.2021 22:58
Mich hat es ehrlich gesagt geärgert, dass Staffel 4...
von Catherine

28.07.2021 17:46
Jetzt habe ich die Staffel auch endlich mal aufgeholt...
von Lena
mehr Kommentare
Verpasst keine News und Updates