Notorious

Im Umfeld der beiden Shonda Rhimes-Serien "Grey's Anatomy - Die jungen Ärzte" und "How to Get Away with Murder" startet beim US-Sender ABC immer donnerstags die neue Dramaserie "Notorious", die das Leben des Anwalts Mark Geragos und der TV-Produzentin Wendy Walker zur Vorlage haben.

---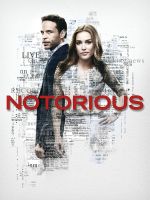 Daniel Sunjata & Piper Perabo, Notorious
© RTL / 2016 Sony Pictures Television Inc. and Disney Enterprises, Inc. All Rights Reserved
Serienmacher: Josh Berman & Allie Hagan
US-Ausstrahlung: 22. September 2016 bis 8. Dezember 2016 auf ABC
D-Ausstrahlung (Pay-TV): 6. Dezember 2018 bis 9. Februar 2019 auf RTL Passion
D-Ausstrahlung (Free-TV): ab 25. Mai 2023 auf NOW!
Staffeln:


News zur Serie:

---

Die Serie "Notorious" handelt von der Zusammenarbeit eines Prominentenwanwalts und einer Fernsehproduzentin, die dessen Fälle mit prominenten Klienten ausnutzen, um News-Storys zu generieren.


Im Hauptcast von "Notorious" spielen:


Im Mittelpunkt der Serie "Notorious" stehen folgende Figuren: Julia George, Jake Gregorian, Megan Byrd und weitere... mehr

Kommentare
Aktuelle Kommentare
Verpasst keine News und Updates