The Handmaid's Tale - Der Report der Magd
"The Handmaid's Tale" ist eine Adaption des gleichnamigen Romans von Margaret Atwood aus dem Jahr 1985, welcher in Deutschland unter dem Titel "Der Report der Magd" erschien. 1990 wurde das Buch bereits von Volker Schlöndorff verfilmt, in "Die Geschichte der Dienerin" waren damals unter anderen Natasha Richardson, Faye Dunaway und Elizabeth McGovern in den Hauptrollen zu sehen.

Im April 2016 wurde bekannt, dass Hulu die Serienadaption aus der Feder von Bruce Miller ("The 100") straight-to-series orderte. Die weibliche Hauptrolle übernimmt die aus "Mad Men" bekannte Elisabeth Moss. Während die Produktion Ende 2016 startete, wird Staffel 1 am 26. April 2017 veröffentlicht.

---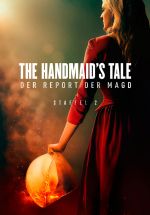 The Handmaid's Tale - Der Report der Magd
© 2018 MGM Television Entertainment Inc. and Relentless Productions, LLC.THE HANDMAIDíS TALE is a trademark of Metro-Goldwyn-Mayer Studios Inc. All Rights Reserved.
Serienmacher: Bruce Miller
US-Ausstrahlung: 26.04.2017 auf Hulu
D-Ausstrahlung (online): 04.10.2017 auf EntertainTV Serien
D-Ausstrahlung (Pay-TV): 09.04.2019 auf RTL Passion
D-Ausstrahlung (Free-TV): ab 18.10.2019 auf Tele 5
Staffeln:



News zur Serie:

"The Handmaid's Tale - Der Report der Magd" ansehen:
---

In einer nahen Zukunft ist ein Großteil der Bevölkerung in den USA durch nukleare Katastrophen steril geworden. Die christlich-fundamentalistische Gruppierung Söhne Jakobs führte einen Staatsstreich durch, welche schlussendlich zu der Gründung der Republik Gilead führte. Frauen haben in dieser Gesellschaft kaum noch Rechte und es fällt den wenigen noch fruchtbaren Frauen zu Kinder zu gebären.

Im Hauptcast von "The Handmaid's Tale" spielen:

Samira Wiley
Max Minghella
Ann Dowd
Madeline Brewer

Offred (Elisabeth Moss) ist eine Magd im Haushalt des Commanders (Joseph Fiennes) und versucht in der neuen Gesellschaft zu überleben, da sie unbedingt ihre Tochter wiederfinden will.

Externer Inhalt
An dieser Stelle ist Inhalt von einer anderen Website (z. B. YouTube, Twitter...) eingebunden. Beim Anzeigen werden deine Daten zu der entsprechenden Website übertragen.
Kommentare
Meistgelesen
Aktuelle Kommentare

28.09.2020 18:54
Ich gehöre auch zu der Fraktion, die an einigen Stellen...
von Lena

28.09.2020 16:32
Genau daran musste ich beim Lesen auch denken, dass sie...
von Daniela
mehr Kommentare
Verpasst keine News und Updates