Halloween in TV-Serien
Zunächst vor allem in Irland gefeiert, entwickelte sich Halloween Anfang des 19. Jahrhunderts auch in den USA zu einem beliebten Volksbrauch, der in der Nacht vom 31. Oktober auf den 1. November gefeiert wurde. Mit einigen Anpassungen seitens der Amerikaner, wurde Halloween zu einem der beliebtesten Feiertage neben Thanksgiving und Weihnachten. Seit dem späten 20. Jahrhundert haben die Halloween-Bräuche auch Einhalt im kontinentalen Europa genommen, was mitunter auch an der zahlreichen Darstellung des Feiertages in Film- und Fernsehproduktionen liegen mag.

Wir setzen uns hier mit der Darstellung von Halloween in den unterschiedlichsten TV-Serien auseinander, betrachten, welche Auswirkungen der Feiertag auf die Charaktere und Handlungsstränge hat und welche Bedeutung der Feiertag in der jeweiligen Serienwelt hat.

Alias

#1.05 Doppelgänger

Bones

#3.05 Echte Mumien im künstlichen Spuk

Brooklyn Nine-Nine

#2.04 Halloween II

Buffy

Halloween in "Buffy" (#2.06 Die Nacht der Verwandlung, #4.04 Der Dämon der Angst, #6.06 Halloween - Nacht der Überraschungen)

Castle

#4.06 Dämonen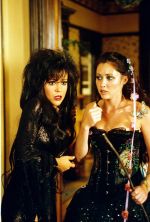 Alyssa Milano & Shannen Doherty, Charmed
© Paramount Pictures
Charmed

Halloween in "Charmed" (#3.04 Das Zeitportal, #8.06 Kill Billie Vol. 1)

Community

Halloween in "Community" (#1.07 Mexikanisches Halloween, #2.06 Epidemiology, #3.05 Horror Fiction In Seven Spooky Steps) (Achtung Spoiler)

CSI: Miami

#3.06 Ein glasklarer Fall

Don't Trust the B---- in Apartment 23

#2.02 Love and Monsters...

Emergency Room

#3.05 Der Eiskalte Atem

Glee
© 2010 Fox Broadcasting Co.; Adam Rose/FOX
Glee

#2.05 The Rocky Horror Glee Show

Grimm

#2.09 La Llorona

Guys With Kids

#1.06 Der Geisterflur

Hart of Dixie

#2.05 Schlafwandler
#3.04 Help Me Make It Through the Night

Happy Endings

#2.05 Spooky Endings

Haven

#3.06 Real Estate

Hawaii Five-0

#2.07 Ka Iwi Kapu
#3.05 Mohai

How I Met Your Mother

#1.06 Die Kürbis-Schlampe (Zur DVD-Rezension)
#6.07 Wir kümmern uns
#7.08 Die Kürbis-Schlampe kehrt zurück

Last Man Standing

#1.04 Last Halloween Standing (Achtung Spoiler)
#3.05 Haunted House (Achtung Spoiler)

Mike & Molly

#2.06 Happy Halloween (Achtung Spoiler)

Modern Family

#2.06 Schreckgespenster zu Halloween
#4.05 Tag des offenen Horrors
#6.06 Halloween 3 – Die Rache der Claire Dunphy
#8.05 Was würde Jesus tun ... zu Halloween?

#9.05 Phil und der Riesenkürbis

#10.05 Good Grief

Jake Johnson & Zooey Deschanel, New Girl
© Greg Gayne/FOX
New Girl

#2.06 Halloween
#3.06 Keaton

Parks and Recreation

#4.05 Meet'n'Greet (Achtung Spoiler)
#5.05 Halloween Surprise (Achtung Spoiler)

Pretty Little Liars

#2.13 Das erste Geheimnis
#3.13 Das Fremde im Zug
#4.13 Grave New World

Die Simpsons

#27.04 Halloween of Horror

Suburgatory

#1.05 Halloween

Super Fun Night

#1.03 Chick or Treat

The Big Bang Theory

#5.07 Ein guter Kerl
#6.05 The Holographic Excitation

#12.06 The Imitation Perturbation

The Mindy Project

#1.04 Halloween

The Secret Circle

#1.07 Masked

Trophy Wife

#1.06 Halloween

Up All Night

#2.06 Ma'am'd

Veronica Mars

#3.05 Ein teuflischer Plan

Partnerlinks zu
Kommentare
Meistgelesen
Aktuelle Kommentare
Verpasst keine News und Updates