Halloween in "Glee"
#2.05 The Rocky Horror Glee Show

Jedes Jahr am 31. Oktober wird weltweit Halloween gefeiert. Diesen Feiertag nutzen viele Serienmacher, um ihren Formaten eine besondere Episode zu widmen. Natürlich darf da auch die Musicalserie "Glee" nicht fehlen. Episode #2.05 The Rocky Horror Glee Show steht ganz im Zeichen vom Musical "The Rocky Horror Picture Show". Doch hat Will Schuester nicht unbedingt den Feiertag im Hinterkopf, sondern einzig und alleine, Emma zu imponieren. Dies und noch andere Dinge sorgen dafür, dass es zu einigen Komplikationen kommt, bevor die Show stattfinden kann.

Glee macht auf Rocky Horror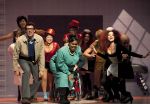 Glee
© 2010 Fox Broadcasting Co.; Adam Rose/FOX
Normalerweise hat Will Schuester immer eine Aufgabe für seine Kids parat, doch diesmal möchte ihm einfach nichts einfallen. Da kommt es ihm ganz gelegen, als Emma von ihrem Besuch der "Rocky Horror Picture Show" mit Carl erzählt und schließlich nutzt Will diese Gelegenheit, genau dieses Thema für seinen Glee-Club aufzugreifen. Doch schon nach wenigen Sekunden wird sehr schnell klar, dass es dem Lehrer gar nicht so sehr um das Musical an sich geht, sondern lediglich Emma zu beeindrucken und so verhindern zu können, dass sie dem Charme von Carl voll und ganz erliegt.

Neben dieser Männerrivalität steht aber noch ganz besonders die Freizügigkeit im Musical zur Debatte und ob diese wirklich angemessen ist, um in einer High-School-Aufführung thematisiert zu werden. Dabei ist es auch nicht verwunderlich, dass auch die Kids selbst an ihrem Selbstbewusstsein bzgl. ihres Körpers zweifeln. Dadurch erkennt auch Will, zuviel von seinen Schülern zu erwarten und gestattet nicht nur Carl mitspielen zu dürfen, nachdem Mike ein Verbot von seinen Eltern bekommen hat einen Transsexuellen zu spielen, sondern auch er selbst übernimmt einen Part. Wieder wird dem Zuschauer dabei jedoch klar, dass es Will nur darauf abgesehen hat, mit Emma Zeit verbringen zu können. Dabei bleibt es allerdings auch nicht aus, dass es zu einer weiteren Diskussion der Männer kommt.

Damit ist das Chaos jedoch noch lange nicht perfekt. Denn um sich in seinem Körper wohl zu fühlen und somit auch seiner Rolle gerecht zu werden, läuft Finn eines Tages nur in Unterhose durch die Schule und riskiert eine einmonatige Suspendierung.

Nach all den Problemen, die diese Musicalaufführung vor Publikum mit sich bringen würde, entschließt sich Will am Ende dazu, die "Rocky Horror Picture Show" in den wirklich grandiosen Kostümen für sich selbst aufzuführen und den Kids damit die Angst zu nehmen, sich nicht wegen ihres Körpers zu genieren – was im Teenageralter ein Horror darstellt - und sorgt damit für eine sehr unterhaltsame Episode.

Daniela S. - myFanbase

Weitere Halloween-Episoden in TV-Serien
Externer Inhalt
An dieser Stelle ist Inhalt von einer anderen Website (z. B. YouTube, Twitter...) eingebunden. Beim Anzeigen werden deine Daten zu der entsprechenden Website übertragen.
Kommentare
Meistgelesen
Aktuelle Kommentare

27.09.2021 19:33
Ich habe bisher die ersten zwei Staffeln gesehen und für...
von Sonia

25.09.2021 22:52
@lena, da bin ich aber froh ????Habe die kurze Staffel...
von Chili vanilli
mehr Kommentare
Verpasst keine News und Updates