The Undoing
Bei "The Undoing" handelt es sich um eine psychologische Thrillerserie. Die Miniserie umfasst sechs Episoden und basiert auf dem 2014 erschienenen Roman "You Should Have Known" von Jean Hanff Korelitz. David E. Kelley rief das Projekt ins Leben und konnte für die Hauptrollen Nicole Kidman und Hugh Grant verpflichten.

---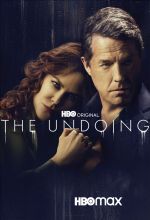 Nicole Kidman & Hugh Grant, The Undoing
© Home Box Office, Inc. All rights reserved. HBO® and all related programs are the property of Home Box Office, Inc.
Serienmacher: David E. Kelley
US-Ausstrahlung: ab 25. Oktober 2020 auf HBO
D-Ausstrahlung: ab 30. November 2020 auf Sky Atlantic HD
Staffeln:

News zur Serie:

Partnerlinks zu
---
Die erfolgreiche Psychotherapeutin Grace Fraser lebt mit ihrem Mann Jonathan und ihrem gemeinsamen Sohn Henry in New York. Henry besucht eine Privatschule, bei der Grace sich in einem Komitee engagiert. So lernt sie Elena Alves kennen, die kurz darauf ermordet wird. Grace hat sofort ein ungutes Bauchgefühl, das sich noch verstärkt, als ihr Ehemann plötzlich wie vom Erdboden verschluckt ist.


Im Hauptcast von "The Undoing" spielen:

Noah Jupe
Matilda De Angelis

Marie meint: Alles in allem ist der Auftakt von "The Undoing" sehr gelungen. Nicole Kidman navigiert den Zuschauer und kann dabei viel von ihrem Können zeigen. Wunderbar passend entwickeln sich dabei die ersten Zweifel daran, wie sehr man auf die Unschuld der Titelfigur vertrauen kann... mehr

Externer Inhalt
An dieser Stelle ist Inhalt von einer anderen Website (z. B. YouTube, Twitter...) eingebunden. Beim Anzeigen werden deine Daten zu der entsprechenden Website übertragen.
Kommentare
Meistgelesen
Aktuelle Kommentare
Verpasst keine News und Updates