J. Mallory McCree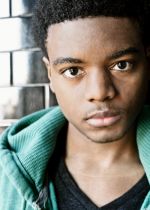 J. Mallory McCree
Der aus Detroit stammende Jungschauspieler begann bereits in frühen Jahren mit der Schauspielerei und wusste bereits im Alter von drei Jahren, dass er diesen Beruf einmal ergreifen möchte. J. Mallory McCree besuchte die Rutgers University und gewann den BFA von der Mason Gross School of the Arts. Wenig später verschlug es ihn nach New York, wo er weitere Rollen ergattern konnte und sich besonders im Bereich Theater auslebte. Es dauerte nicht lange, bis McCree eine Rolle am Broadway erhielt und dort in "A Streetcar Named Desire" sein Debüt gab. Seither steht er sehr gern auf der Bühne und genießt es, sich in seine Rollen einzuleben.

Nachdem er auf der Bühne einige Erfolge für sich verbuchen konnte, versuchte McCree, auch in der Filmbranche Fuß zu fassen und war seither an der Seite einige großer Schauspieler zu sehen. Auch im Fernsehen hatte McCree bereits einige Rollen und trat in "Show Me a Hero", "Code Black" und auch "Quantico" auf. J. Mallory McCree fühlt sich geehrt, schon mit Oscar Isaac, Tilda Swinton und Forest Whitaker vor der Kamera gestanden zu haben und hofft sehr, einmal ebenso so erfolgreich zu werden.

McCree ist verheiratet und liebt die HBO-Serie "Game of Thrones". Ausserdem verfolgt er "The Knick", "Rectify" und "Ray Donovan".

Marie Florschütz - myFanbase
Ausgewählte Filmographie (Schauspieler)
2017
Homeland (TV) als Sekou Bah
Originaltitel: Homeland (TV)
2015 - 2016
Quantico (TV) als Charlie Price
Originaltitel: Quantico (TV)
2015
Show Me a Hero (TV) als Skip
Originaltitel: Show Me a Hero (TV)
2015
Code Black (TV) als Jamal
Originaltitel: Code Black (TV)
2014
Sugar als Terry
Originaltitel: Sugar
2013
The Last Keepers als Gavin
Originaltitel: The Last Keepers
2013
Blue Bloods - Crime Scene New York (TV) als Deshawn Williams
Originaltitel: Blue Bloods - Crime Scene New York (TV)
2013
Black Nativity als Kyle
Originaltitel: Black Nativity
2013
You Know Me als Joshua
Originaltitel: You Know Me
2012
CLONED: The Recreator Chronicles als Derek Johnson
Originaltitel: CLONED: The Recreator Chronicles
2011
We Need to Talk About Kevin als Gefangener
Originaltitel: We Need to Talk About Kevin
2011
White Sugar in a Black Pot als Junior Mackey
Originaltitel: White Sugar in a Black Pot
2011
Real Talk als Iggy
Originaltitel: Real Talk
2011
Dark Horse als Anthony
Originaltitel: Dark Horse
2009
Law & Order (TV) als Rodney
Originaltitel: Law & Order (TV)
Steckbrief
| | | |
| --- | --- | --- |
| Geburtsname: | | Jamal Mallory McCree |
| Geburtsort | | Detroit, Michigan, USA |
Aktuelle Kommentare

05.12.2021 01:38
Ich fand ja Ricks Ausstiegsepisode schon grausam zum...
von Daniela

03.12.2021 21:05
Ähem... Peinlich, wer lesen kann ist klar im Vorteil :-D...
von Sonia
mehr Kommentare
Verpasst keine News und Updates