Torrey DeVitto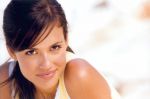 Torrey DeVitto
Torrey Jo DeVitto wurde am 8. Juni 1984 auf Long Island, New York geboren. Ihre Eltern sind Maria und Liberty DeVitto, der ein langjähriger Drummer für den Musiker Billy Joel ist. Sie hat zwei Schwestern namens Devon und Maryelle und verbrachte ihre Kindheit oft damit, mit ihren Eltern durch die Welt zu reisen. Im Alter von sechs Jahren nahm Torrey DeVitto Violinenunterricht und als sie in der vierten Klasse war, bekam sie den Platz als Violinenspielerin in ihrer High School-Band. Als Torrey DeVitto zwölf Jahre alt war, spielte sie ein Solo-Violinen Stück bei Christie Brinkleys und Peter Cooks Hochzeit. Nach der High School verbrachte sie ihren Sommer in Japan.

Ihre Karriere begann für sie mit dem Modeln, unter anderem für Ford und für Avenue One. Doch 2002 realisierte sie, dass ihre Zukunft nicht das Modeln, sondern das Schauspielern war. Aber Torrey DeVitto blieb auch ihrer Musik treu und spielte Violine mit der Tommy Davidson Band im Sunset Room in Hollywood. Ihr Solo-Auftritt war sehr erfolgreich und deshalb durfte sie die Violine auf Raphael Saadiqs Album "Ray Ray" spielen, das 2004 erschien.

Ihre ersten Schauspiel-Erfahrungen machte Torrey DeVitto mit den TV-Serien "Dawson's Creek" und "Drake & Josh". Es folgte im selben Jahr ihr erster Film mit dem Titel "Starcrossed". Danach schlüpfte Torrey DeVitto in die Rolle eines aufstrebenden Models in der ABC-Family-Serie "Beautiful People". "Auch Mädchen, die keine Models werden wollen, können es gut nachvollziehen", sagte Torrey DeVitto über die Serie.

2006 spielte sie als Zoe in der Filmfortsetzung "Ich werde immer wissen, was du letzten Sommer getan hast" mit. Später spielte sie eine Schauspielerin in "Heber Holiday" und wurde Hauptdarstellern in "Green Flash", zusammen mit David Charvet und Kristin Cavallari. 2008 stand sie als Carrie für die Serie "One Tree Hill" vor der Kamera, drei Jahre später ergatterte sie eine wichtige Rolle in "Pretty Little Liars".

Im April 2011 heiratete Torrey DeVitto ihren langjährigen Freund Paul Wesley ("Vampire Diaries") in einer privaten Zeremonie. Im August 2013 ließen die beiden sich jedoch wieder scheiden. 2015 übernahm Torrey DeVitto eine Hauptrolle in "Chicago Med", dem zweiten Spin-Off der erfolgreichen Serie "Chicago Fire". 2021 hat sie sich entschlossen, die Serie auf eigenen Wunsch zu verlassen, um sich neuen Projekten zu widmen.

Im Mai 2016 wurde bekannt, dass DeVitto den "Dancing with the Stars"-Tänzer Artem Chigvintsev datet. Nur ein Jahr später gaben die beiden ihre Trennung bekannt.

Tanya Sarikaya & Daniela S. - myFanbase
Ausgewählte Filmographie (Schauspieler)
2015 - 2021
Chicago Med (TV) als Dr. Natalie Manning
Originaltitel: Chicago Med (TV)
2021
Cold als Ashley
Originaltitel: Cold
2017 - 2020
Chicago Fire als Dr. Natalie Manning
Originaltitel: Chicago Fire (TV)
2016 - 2019
Chicago P.D. (TV) als Dr. Natalie Manning
Originaltitel: Chicago PD (TV)
2010 - 2017
Pretty Little Liars (TV) als Melissa Hastings
Originaltitel: Pretty Little Liars (TV)
2012 - 2013
Vampire Diaries (TV) als Meredith Fell
Originaltitel: The Vampire Diaries (TV)
2013
Army Wives (TV) als Maggie Hall
Originaltitel: Army Wives (TV)
2011
The Rite als Nina
Originaltitel: The Rite
2011
Cheesecake Casserole als Margo
Originaltitel: Cheesecake Casserole
2009
Castle (#2.03 Das neue Gesicht) (TV) als Sierra Goodwin
Originaltitel: Castle (TV)
2008
Killer Movie als Phoebe Hilldale
Originaltitel: Killer Movie
2008
One Tree Hill (TV) als Carrie
Originaltitel: One Tree Hill (TV)
2008
Green Flash als Mia
Originaltitel: Green Flash
2008
CSI: Miami (TV) als Kelly Chapman
Originaltitel: CSI: Miami (#6.14 You May Now Kill the Bride) (TV)
2007
Heber Holiday als Sierra Young
Originaltitel: Heber Holiday
2006
Ich werde immer wissen, was du letzten Sommer getan hast als Zoe
Originaltitel: I'll Always Know What You Did Last Summer
2005 - 2006
Beautiful People (TV) als Karen Kerr
Originaltitel: Beautiful People (TV)
2004 - 2005
Drake & Josh (TV) als Denise Woods
Originaltitel: Drake & Josh (TV)
2005
Starcrossed
Originaltitel: Starcrossed
Steckbrief
| | | |
| --- | --- | --- |
| Geburtstag | | 08.06.1984 |
| Geburtsort | | Long Island, New York |
Aktuelle Kommentare
Verpasst keine News und Updates