"Zoey's Extraordinary Playlist" castet Katie Findlay für Nebenrolle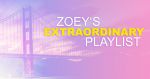 Zoey's Extraordinary Playlist
Die aus "How to Get Away with Murder" bekannte Katie Findlay hat laut Entertainment Weekly für eine Nebenrolle im NBC-Musicalhit "Zoey's Extraordinary Playlist" unterschrieben.

Die Schauspielerin wird als Kunstkuratorin Rose auftreten und ein Love Interest für Max (Skylar Astin) sein. Die beiden lernten sich damals im Sommercamp kennen, jedoch ist nie etwas zwischen ihnen passiert. Als Rose aber für mehrere Monate in San Francisco auftaucht, entfachen wieder alte Gefühle.

Ihren ersten Auftritt wird Findlay in der Midseason-Premiere am 28. März 2021 haben.

Alles Weitere zu "Zoey's Extraordinary Playlist" findet ihr in unserem ausführlichen Serienbereich.
Externer Inhalt
An dieser Stelle ist Inhalt von einer anderen Website (z. B. YouTube, Twitter...) eingebunden. Beim Anzeigen werden deine Daten zu der entsprechenden Website übertragen.
Quelle: TVLine
Daniela S. - myFanbase
18.03.2021 20:59
Weitere News
mehr News
Meistgelesen
Verpasst keine News und Updates