Thanksgiving in TV-Serien

An jedem vierten Donnerstag im November wird in den USA der offizielle Feiertag Thanksgiving gefeiert und gehört zu einem der wichtigsten Familienfeste, an dem die gesamte Familie sowie Freunde zusammen kommen und gemeinsam ein Festmahl zu sich nehmen. Historisch gesehen, ist man sich nicht ganz einig, wann Thanksgiving zum ersten Mal in den Vereinigten Staaten gefeiert wurde, jedoch ist die prominenteste Geschichte, dass die Pilgerväter bei Plymouth Rock in Massachusetts strandeten und dort 1621 ein mehrtägiges Thanksgiving gemeinsam mit einheimischen Indianern feierten, ohne deren Hilfe die Pilgerväter den folgenden Winter nicht überlebt hätten.

Wir setzen uns hier mit der Darstellung von Thanksgiving in den unterschiedlichsten TV-Serien auseinander, betrachten, welche Auswirkungen der Feiertag auf die Charaktere und Handlungsstränge hat und welche Bedeutung der Feiertag in der jeweiligen Serienwelt hat.

90210

#4.10 Smoked Turkey

Brothers & Sisters

#3.10 Sorge um Elizabeth (Achtung Spoiler)

Castle

#6.10 The Good, The Bad and The Baby (Achtung Spoiler)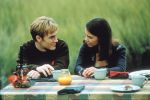 ames van der Beek & Katie Holmes, Dawson's Creek
© 1999, 2000 Columbia TriStar Television, Inc. All Rights Reserved.
Dawson's Creek

#3.08 Rat mal wer zum Essen kommt (Zur DVD-Rezension)

Dexter

#4.09 Das Fest der Dankbarkeit

Friday Night Lights

#4.13 Lokalderby (Achtung Spoiler)

Friends

#1.09 Aufgeblasen!
#3.09 Die mit dem Ball spielen
#4.08 Chandler in der Kiste
#5.08 Fatales Geständnis
#6.09 Jugendsünden
#7.08 Die Hunde-Allergie
#8.09 Der Hass-Club
#9.08 Die schreckliche Schwester
#10.08 Tag der Dankbarkeit

Gilmore Girls

Thanksgiving in "Gilmore Girls" (#3.09 Stress hoch vier, #6.10 Geldsegen)

Go On

#1.09 Dinner Takes All (Achtung Spoiler)

Greek

#3.09 Wünsch dir was

Guys with Kids

#1.09 Thanksgiving

Neil Patrick Harris, How I Met Your Mother
© Twentieth Century Fox Home Entertainment
How I Met Your Mother

#1.09 Wohltaten und Untaten (Zur DVD-Rezension)
#3.09 Klapsgiving
#5.09 Klapsgiving 2 - Die Rache der Ohrfeige
#6.10 Blitzgiving
#7.11 Plan B

Mike & Molly

#2.09 Mike wird schwach
#3.07 Thanksgiving fällt aus

The Mindy Project

#1.06 Thanksgiving (Achtung Spoiler)

Modern Family

#3.09 Camerons Kürbisgeschichte

New Girl

#1.06 Truthahn mit Paul
#2.08 Die Elternfalle

The New Normal

#1.09 Vergib mir!

O.C., California

Thanksgiving in "O.C., California" (#1.11 Rückkehr nach Chino, #4.03 Schuld und Sühne)

One Tree Hill

#8.09 Nicht jeder Gast ist willkommen (Achtung Spoiler)

Suburgatory

#2.05 Wünsch dir was

TV-Season-Übersicht

Thanksgiving-Episoden im Jahr 2013
Thanksgiving-Episoden im Jahr 2012
Thanksgiving-Episoden im Jahr 2011
Thanksgiving-Episoden im Jahr 2010
Thanksgiving-Episoden im Jahr 2009
Thanksgiving-Episoden im Jahr 2008
Thanksgiving-Episoden im Jahr 2007
Thanksgiving-Episoden im Jahr 2005
Thanksgiving-Episoden im Jahr 1999

Kommentare
Meistgelesen
Aktuelle Kommentare
Verpasst keine News und Updates