HBO verlängert "The Leftovers" um Staffel 2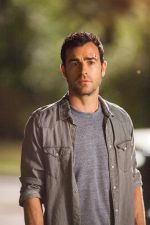 Justin Theroux, The Leftovers
© 2014 Home Box Office, Inc. All rights reserved. HBO® and all related programs are the property of Home Box Office, Inc.
Damon Lindelof und Tom Perrotta dürfen sich freuen, denn ihre neue Serie "The Leftovers" wurde von HBO um eine zweite Staffel verlängert, obwohl die erste Staffel noch gar nicht komplett ausgestrahlt wurde.

"Wir freuen uns 'The Leftovers' mit den außergewöhnlichen Talenten von Damon Lindelof und Tom Perrotta für eine zweite Staffel zurückzubringen", erklärte Michael Lombardo, der Programmchef von HBO. "Es war wirklich aufregend zu sehen, welch überwältigende Reaktion die provokative und originelle Geschichte hervorgebracht hat. Wir freuen uns, die Reise fortzusetzen und die Serie noch tiefer in die Leben derjenigen, die zurückgeblieben sind, eintauchen zu lassen."

"The Leftovers" spielt im fiktionalen New Yorker Vorort Mapleton und dreht sich um eine Gruppe von Menschen, die noch da sind, nachdem 140 Millionen Menschen weltweit auf unerklärliche Weise verschwunden sind. In den Hauptrollen sind neben Justin Theroux und Amy Brenneman unter anderem auch Christopher Eccleston, Liv Tyler, Chris Zylka, Michael Gaston, Charles Carver und Max Carver zu sehen.

In Deutschland hat Sky Go "The Leftovers" im Angebot. Im Herbst startet dann die erste Staffel auf Sky Atlantic HD.
Quelle: Zap2it
Catherine Bühnsack - myFanbase
14.08.2014 17:15
Weitere News
mehr News
Meistgelesen
Verpasst keine News und Updates