Kenneth 'Ken' Cosgrove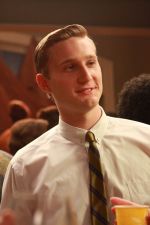 Aaron Staton, Mad Men
© 2008 Carin Baer/AMC
Kenneth 'Ken' Cosgrove ist Kundenbetreuer bei Sterling Cooper. Er ist ein waschechter Lebemann und Charmeur, er startet grundsätzlich bei jeder Frau, die ihm über den Weg läuft, einen Annäherungsversuch, so natürlich auch bei Peggy Olson, als diese neu zu Sterling Cooper kommt. Im Umgang mit den Klienten der Agentur hat er ein gutes Gespür für die Menschen und kommt deshalb oft sehr gut mit ihnen aus.

Ken stammt aus Vermont und studierte an der Columbia Universität. Im Büro verbringt er die meiste Zeit mit Paul Kinsey, Harry Crane und Peter Campbell. Die Jungs klatschen dabei häufig über andere Büroangestellte und gönnen sich gerne mal einen Drink während der Arbeitszeit.

Ken betätigt sich in seiner Freizeit als Schriftsteller und hat es geschafft eine seiner Kurzgeschichten im renommierten Magazin The Atlantic Monthly zu veröffentlichen. Voller Stolz auf diese Errungenschaft präsentiert er daraufhin die Zeitschrift im Büro, was besonders Pete Campbell innerlich sehr trifft. Zwischen Pete und Ken besteht eine große Rivalität gepaart mit einer gehörigen Portion Eifersucht seitens Petes. Der versucht auch nach Kens literarischem Erfolg seine eigenen schriftstellerischen Fingerübungen zu veröffentlichen, scheitert aber.

Ken wird einmal zum Streitthema zwischen Salvatore Romano und dessen Ehefrau Kitty, als er bei ihnen zum Essen eingeladen ist. Sal und er verstehen sich dabei ausgesprochen gut und teilen viele Interessen, Kitty aber ist frustriert da Sal dem anderen Mann wesentlich mehr Aufmerksamkeit schenkt als ihr. Weder Ken noch Kitty wissen dabei von Salvatores heimlicher Homosexualität.

Als Sterling Cooper von der britischen Werbeagentur Putnam, Powell and Lowe übernommen wird und Lane Pryce als deren Abgeordneter im New Yorker Büro arbeitet, befördert er sowohl Ken als auch Pete Campbell zum Abteilungsleiter der Kundenbetreuung, mit dem Ziel das sich nach einer gewissen Zeit einer der beiden als geeigneter herausstellt. Die Klienten von Sterling Cooper werden dabei zwischen ihnen aufgeteilt. Ken scheint mit der Situation im Gegensatz zu Pete gut zu Recht zu kommen und fühlt sich durch den Wettbewerb eher angespornt als unter Druck gesetzt. So wird er auch nach einigen Monaten von Lane Pryce zum Senior Vizepräsident mit der Aufgabe der Kundenbetreuung ernannt. Im Gegensatz zu Pete, der den Kunden jeden Wunsch von den Augen abliest, gibt Ken den Kunden das Gefühl, sie wären wunschlos glücklich, ist dabei die Begründung von Pryce. Donald Draper sieht dies aber anders, denn als Draper, Sterling, Cooper und Pryce beschließen, einem weiteren Verkauf von Sterling Cooper zuvorzukommen und selbst eine neue Agentur zu gründen, suchen sie die Unterstützung von Pete Campbell und lassen Ken zurück, der nun einem ungewissen beruflichen Schicksal entgegen blickt.

Cindy Scholz - myFanbase

Meistgelesen
Aktuelle Kommentare

28.07.2021 17:46
Jetzt habe ich die Staffel auch endlich mal aufgeholt...
von Lena

24.07.2021 13:32
Ich bin ehrlich gesagt immer sehr schwer wieder...
von Lena
mehr Kommentare
Verpasst keine News und Updates