Staffel 5 von "Supergirl" erscheint im August 2022 auf DVD und Blu-ray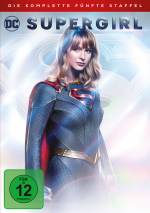 Supergirl
© 2019 WBEI. SUPERGIRL and all related pre-existing characters and elements TM and © DC Comics based on characters created by Jerry Siegel & Joel Shuster.
Lange mussten die Fans von "Supergirl" warten, dass die fünfte Staffel der Serie endlich auf DVD und Blu-ray erscheint. Am 4. August 2022 ist es soweit.

Die komplette fünfte Staffel von "Supergirl" bei Amazon vorbestellen:
DVD | Blu-ray

Die Boxen sind jeweils ab zwölf Jahren freigeben und die 19 Episoden befinden sich auf fünf DVDs bzw. fünf Blu-rays. Informationen über Sprach- oder Untertitelauswahl sowie mögliches Bonusmaterial liegen momentan nicht vor.

Darum geht's in Staffel 5: Die Staffel befasst sich mit einer Gesellschaft, die durch die zunehmende Technologisierung ihre Menschlichkeit verliert. Auch die Beziehung zwischen Kara (Melissa Benoist) und Lena Luthor (Katie McGrath) steht im Fokus. Denn Lena weiß jetzt, dass es sich bei ihrer ehemals besten Freundin um Supergirl handelt, was die Beziehung zwischen den beiden sehr belastet…

Alles Weitere zu "Supergirl" findet ihr bei unseren Serien A bis Z.
Quelle: Warner Bros. Home Entertainment Germany
Daniela S. - myFanbase
25.07.2022 22:27
Weitere News
Meistgelesen
Verpasst keine News und Updates