Jonathan Pryce schließt sich "Slow Horses" für Apple TV+ an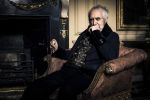 Jonathan Pryce, Taboo
© 2017 Concorde Filmverleih GmbH, Concorde Home Entertainment GmbH. Alle Rechte vorbehalten.
Im August diesen Jahres durften wir euch berichten, dass sich Jonathan Pryce den finalen beiden Staffeln von "The Crown" als Prinz Philip anschließen wird. Nun hat er sich einem weiteren Prestigeprojekt angeschlossen. Denn er wird an der Seite von Gary Oldman für die Spionageserie "Slow Horses" von Apple TV+ zu sehen sein. Neben den beiden Männern sind auch Olivia Cooke ("Ready Player One"), Kristin Scott Thomas ("Rebecca") und Jack Lowden ("Dunkirk") gecastet worden.

Bei "Slow Horses" handelt es sich um eine TV-Adaption einer Romanreihe von Mick Herron, die "Slough House" heißt. Es geht um ein Team von britischen Agenten, die als Abladeplatz des MI5 gelten. Oldman wird Jackson Lamb spielen, den intelligenten, aber auch jähzornigen Anführer der Spione, die nach schwerwiegenden Karrierefehlern in seiner Einheit landen, spielen. Es werden in Großbritannien gleich zwölf Episoden produziert, die vermutlich auf zwei Staffeln aufgeteilt werden sollen.

Scott Thomas wird als Diana Taverner zu sehen, die eine hochrangige MI5-Agentin ist. Lowden wiederum ist der talentierte Agent River Cartwright, der sich hocharbeiten will. Pryce wird seinen Großvater David darstellen, der ebenfalls beim MI5 war. Cooke wiederum stellt Sid Baker da, die einen scharfen Geist hat und sich mit River ein Büro teilt. Im Übrigen ist Cooke gerade erst für das "Game of Thrones"-Spin-Off "House of Dragon" gecastet worden.

Apropos "Game of Thrones": Pryce ist in der Fantasyserie als High Sparrow zu sehen gewesen.
Quelle: Deadline
Lena Donth - myFanbase
14.12.2020 20:39
Weitere News
mehr News
Meistgelesen
Verpasst keine News und Updates