Ryan Murphy holt Kaia Gerber für Staffel 10 von "American Horror Story" an Bord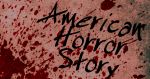 American Horror Story
Erst vor wenigen Tagen hat "American Horror Story"-Schöpfer Ryan Murphy den Titel für die kommende zehnte Staffel enthüllt. Nun gab er via Instagram (siehe unten) bekannt, dass eine weitere Darstellerin gecastet wurde.

Bei dieser handelt es sich um Kaia Gerber, Tochter von Supermodel Cindy Crawford und des Unternehmers Rande Gerber. Kaia ist selbst Model und Schauspielerin und war in "Last Day of Summer and Sister Cities" zu sehen.

Welche Rolle sie spielen wird, ist dabei nicht bekannt. Murphy ist aufgeregt, dass Gerber der "American Horror Story"-Family beigetreten ist.

Gerber schließt sich den zuvor gecasteten Sarah Paulson, Evan Peters, Kathy Bates, Leslie Grossman, Billie Lourd, Adina Porter, Lily Rabe, Angelica Ross und Finn Wittrock und weiteren an.

Alles Weitere zu "American Horror Story" findet ihr in unserem ausführlichen Serienbereich.
Externer Inhalt
An dieser Stelle ist Inhalt von einer anderen Website (z. B. YouTube, Twitter...) eingebunden. Beim Anzeigen werden deine Daten zu der entsprechenden Website übertragen.
Quelle: Deadline, @mrrpmurphy via Instagram
Daniela S. - myFanbase
24.03.2021 00:50
Weitere News
mehr News
Meistgelesen
Verpasst keine News und Updates