"The Blacklist" interview with Hisham Tawfiq
October 23, 2014 | On the NBC hit show "The Blacklist" Hisham Tawfiq portrays Dembe, the loyal bodyguard of protagonist Raymond Reddington. In our exclusive interview Hisham talks about working on set of the crime drama, what it is like to work with an established actor like James Spader and his experiences serving as a marine.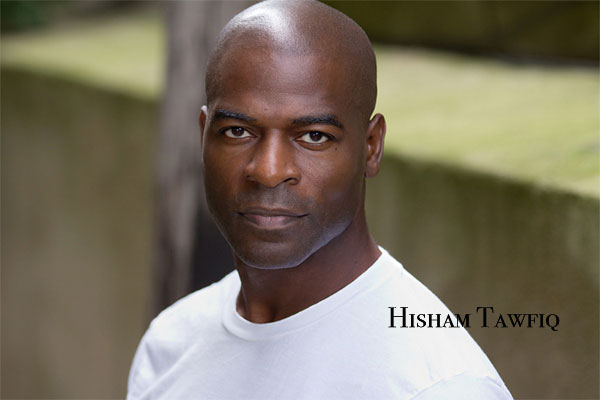 Hisham Tawfiq
1.How did you get into acting?

I have always had an interest in acting after reciting Maya Angelou's poem " I Know Why The Cage Bird Sings" in the 10th grade, but after performing the role of Shaka Zulu in a dance performance years later I made the choice to really give it a shot.

2.You play Dembe, Red Reddington's bodyguard, on "The Blacklist". What drew you to play this role?

It started as an audition that consisted of a lot of improv, which was different and exciting. The role was mysterious and there was an emphasis on being loyal and trustworthy and that struck a chord with me.

3. Dembe is completely loyal to Red. Do you think this is a real friendship or does Dembe have to be ready to be dropped by Red when the chips are down?

I truly believe that this is a real friendship that runs very deep, and there is never a time that Dembe feels in danger of being crossed by Red. Dembe must be fearless to do his job.

4. Are we going to learn more about Dembe's past (with Red)?

I think we will, just have to be patient and wait and see what happens. I think the mystery of their past relationship is something we all want to know.

5. Which has been your hardest scene to play on "The Blacklist" yet? And which one was the most exciting?

Not sure if there has been a hard scene for me to play as of yet, but my favorite scene to date is when I had the private moment with Red outside the box when I was about to be executed by Anslo Garrick in season 1. (editor's note: #1.09 Anslo Garrick)

6. Does everyone on set have their guesses about the true nature of the connection between Red and Liz or do you maybe even know if they are father and daughter?

The funny thing about that question is not once has any one on set ever discussed it.

7.What storyline would you like to see for Dembe?

I would love to look into Dembe's past life, family, love interest, and also look into his private life when he is not working with Red.

8. James Spader is an actor with an amazing onscreen presence. What did you learn from working with him?

Watching him work is truly special, its like being in a Master Acting class. He is very detailed very specific and puts 110 percent into every scene he does. I have learned the importance of specificity. He discusses every scene down to the smallest detail, things that others would overlook or take for granted. Working with a veteran actor Like James Spader is an incredible learning experience and there is never a dull moment working with him. The greatest lesson I've learned so far is the power of stillness, and using the internal power of truth that runs through our bodies.

9. What one thing about "The Blacklist" would people not know?

The cast and crew really have a great time behind the scenes. It's really a loving family despite the intense nature of the show.

10. You served as a marine in Iran and Afghanistan. Do these experiences have an influence on your life now? And did you find it difficult to get back to your life at home?

Serving in the Marines just reinforced some teachings that I already had. The importance of discipline, adapting to change and problem solving are life tools that I will use forever. For me it was not hard to get back into the flow of home life. I made a list of things I wanted to do when I returned home and I just hit the ground running with determination to live out my life to the fullest potential

11. Since myFanbase is an online magazine about tv shows, we would like to know what your favorite shows are?

Ahhhh I have alot!!! I love "The Walking Dead", "Banshee", "Game of Thrones", "How to Get Away with Murder" and "House of Lies" to name a few.

Thank you for making time for us, Hisham, we wish you all the best for your future!

Melanie Wolff & Nicole Oebel - myFanbase

---
Hinweis: © myFanbase 2014 - Das Exklusivinterview darf nicht auf anderen Internetseiten oder an sonstiger Stelle veröffentlicht werden! Die ersten beiden Fragen (nicht mehr als 180 Wörter) dürfen mit Link zu dieser Seite gepostet werden. Übersetzungen in andere Sprachen als Englisch oder Deutsch dürfen mit Link zu dieser Seite und Angabe des Interviewers veröffentlicht werden.
---
Kommentare
Meistgelesen
Aktuelle Kommentare

26.06.2019 22:21
Die Serie macht wirklich Spaß, lässt einen aber auch...
von Krissi

26.06.2019 17:05
Ich bin sehr gespannt auf Legacies, es hört sich...
von Sonia
mehr Kommentare
Verpasst keine News und Updates