Exclusive interview with Gregg Daniel
August 6, 2014 | Actor Gregg Daniel has been portraying Reverend Daniels in the HBO hit series "True Blood" since 2010 and he joined the main cast in the final season. In our interview the actor talks about his acting experiences, the beginnings of his career, his role as Reverend Daniels and his work on set of "True Blood".

---
Note: © myFanbase 2014 - The interview is exclusive to myFanbase and may not be published on other websites or the like. You may share the first two questions (up to 180 words) if you link back to this site. Translations other than English and German may be posted with full credit including the link to this site.
---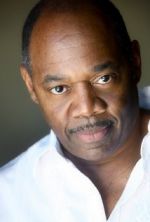 Gregg Daniel
1. When you started out as an actor you probably had some ideas about the job. Did it turn out to be what you expected?

I always knew being an actor was going to be difficult, however I always believed I was going to be successful. Don't ask me how I knew, perhaps is was blind faith but I was willing to do whatever it took to be a versatile, working actor. The fact that I studied at a conservatory program for years (NYU's Tisch School of the Arts) certainly helped prepare me. The commitment and dedication it takes to train as a performer is the same level of resiliency you need to have a career in this industry. Thank goodness, I pursued my dreams and was lucky.

2. Is there a certain point in your career would you like to relive, to experience it again?

My career has been quite satisfying and I've been blessed to work consistently. I think the moment I first arrived in Los Angeles from New York was a special time for me. I was taking quite a chance leaving New York and hoping to find work here. New York was where I was born, had family and friends, trained as an actor and began my career. The thought of leaving my beloved city behind because I was interested in developing a film and television career was scary and risky. I have to say I'm proud of taking a chance back then and journeying out to Los Angeles. My faith paid off and helped me achieve as an actor.

3. What drew you to play Reverend Daniels on "True Blood", what do you admire about him?

I wanted to portray Reverend Daniels an as ordinary man caught up in extraordinary circumstances. When Daniels initially took over the ministerial duties in Bon Temps, little did he know he'd have Vampires, Werewolves, Faeries and Shape Shifters as part of his community and congregation. This parish is certainly a test of Daniel's faith, not only in God but in himself as well. How do you help heal a community as bizarre as this one and teach them to love one another? All these obstacles presented a wonderful challenge to deal with as an actor investing in my character.

4. Reverend Daniels and Lettie Mae have a relationship with a certain dependency. What do you think about their relationship? Is it a happy marriage?

I think Reverend Daniels loves Lettie Mae fiercely and is trying to do everything in his power to protect her and keep her safe. We know Lettie Mae has had substance abuse issues. Still, Daniels is not giving up on the two of them having a happy life together. I also believe Lettie Mae is sincerely trying to get her act together and remain in this marriage. Daniels' to some degree has given her life new meaning as she has his. I believe they're going to be happy but I guess you could call me sentimental.

5. As one of the pieces on the Bon Temps chess board, what was the craziest or funniest thing that happened to you on set?

Well, the funniest thing I ever did on the set was a scene between Lettie Mae, Reverend Daniels, Terry and Arlene. The Reverend and Lettie Mae had been called in to perform a kind of exorcism in Terry and Arlene's home. The exorcism consisted of Lettie Mae and I singing & playing tambourine, then moving into the bedroom to smoke it up with incense and drive the demons out. It felt absurd in a wonderful way, Adina & I were fully committed in our power "to cast demons out". We had a lot of fun.

6. Reverend Daniels has scenes with a lot of the Bon Temps characters. Which actor is most like his character and who is completey different?

I have to say there are a number of characters who sometime behave in ways that echo what Reverend Daniels is about. I don't mean in echoing Daniel's belief in religion but in their personal struggle to do the right thing. I find Sookie continually tries to make the right choices and behave in a morally principled way. She cares deeply about her friends and family and even the town of Bon Temps. I find her belief in "goodness" a reflection of the way the Reverend would like Bon Temp to be, a community of people looking out for and caring for one another.

7. In season 6 Reverend Daniel conducted Terry Bellefleur's funeral. Was it difficult to film such an emotional scene?

I think what was most moving about the funeral was the military honors attached with the ceremony. As you know, Terry Bellefleur was a veteran, so a small attachment of U.S. soldiers were hired who specialize in performing military honors during a funeral (complete with a gun salute). Seeing those soldiers folding the flag over the coffin with such precision, honor and respect for the deceased stunned me. But it was when the officer presented the flag to Terry's wife ending with the words, "…you have the thanks of a grateful nation" that moved me to tears.

8. What was saying good bye to Bon Temps and everything and everyone on "True Blood" like, what will you miss most?

While everyone on the set knew this would be "TRUE BLOOD'S" last season, we tried not to dwell on it but wanted to continue to make ten episodes we could be proud of. Sure, there were moments when you realized in roughly six months this would all be over, however we had ten amazing scripts to shoot and give our most loyal fans a reason to watch us this season.

I'll miss going to work everyday with a cast and crew who are total committed to making each episode the best it can be. Every department from sets to make up to directing bring their "A" game to each episode we produce. That kind of professionalism is so rewarding to be a part of.

9. Can you tell us a little bit about your new projects?

I'm also a Stage Director with several projects in the works. One of the most exciting is a stage play I'm directing with my wife (also an actress) in the lead. The play is titled "WEDDING BAND", The piece was written in the 60's but takes place in 1918. The story revolves around a ten year loving relationship between a "Negro" Woman and a Caucasian man. What's remarkable is in many southern states there was a law during that time which forbade blacks & whites marrying (miscegenation laws). How two people could have the courage to love each other under those circumstances is astounding.

10. Since myFanbase is an online magazine about tv shows, what are your favorite shows?

There are quite a number of quality TV shows in production right now, especially on the cable networks. I may sound a little biased but HBO produces a number of shows I'm wild about, just to name a few - "Boardwalk Empire", "Game of Thrones", "True Detective", Newsroom and of course, "TRUE BLOOD". Let's not forget Netflix's "House of Cards" and "Orange is the New Black". I believe all these shows have produced entertaining high quality television.

Thank you for taking the time, Gregg, we wish you all the best!

Ceren K. - myFanbase

Kommentare
Meistgelesen
Aktuelle Kommentare

26.11.2021 13:44
War diese Woche auch schon ganz durcheinander, weil...
von Lena

24.11.2021 14:35
Ja, aber ich habe Staffel 1 noch nicht durch. Es ist...
von Catherine
mehr Kommentare
Verpasst keine News und Updates