Harrison Wells
Harrison Wells (Tom Cavanagh), gilt als der Gründer und CEO von StarLabs und als Entwickler eines Teilchenbeschleuniger, der bei einer großen Veranstaltung einweiht wird. Der Teilchenbeschleuniger arbeitet nur wenige Minuten, bevor eine Anomalie auftritt und bei dem daraus resultierenden Unfall Dunkle Materie in den Himmel abgegeben wurde. Nach diesem Vorfall sitzt augenscheinlich er im Rollstuhl und sein Ruf als Wissenschaftler sowie der seiner Firma ist ruiniert. In der ersten Staffel der Serie "The Flash" arbeitet arbeitet scheinbar Harrison Wells weiterhin für StarLabs.

Charakterbeschreibung: Harrison Wells, Staffel 1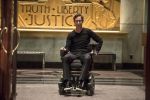 Tom Cavanagh, The Flash
© 2015 Warner Bros. Entertainment Inc. All rights reserved
Mit seiner Verlobten Tess Morgan arbeitet Harrison Wells an der Entwicklung eines Teilchenbeschleunigers und bestimmt mit ihr den Namen des Instituts zu Scientific and Technological Advanced Research Laboratories (kurz. S. T. A. R. Labs). In der ursprünglichen Zeitlinie wäre dieses Vorhaben Wells und seiner Verlobten gelungen und sie hätten den Teilchenbeschleuniger im Jahre 2020 eröffnet.

Der in der Vergangenheit gestrandete Eobard Thawne greift jedoch in die Zeitlinie ein und sorgt dafür, dass das Pärchen einen Autounfall erleidet, bei dem Tess stirbt. Thawne ermordet den noch bei Bewusstsein seienden Wells, den er am Straßenrand beerdigt. Er selbst übernimmt mit Hilfe einer Technologie aus der Zukunft dessen Äußeres und gibt sich von da an als Wells aus, um die Eröffnung des Teilchenbeschleunigers und den Unfall zur Freilassung der dunklen Materie sehr viel schneller zu verwirklichen.

Zum zweiten Teil der Charakterbeschreibung von Eobard Thawne als Harrison Wells (Staffel 1 & 2)
Zur Charakterbeschreibung von Harrison 'Harry' Wells (Erde-2)
Zur Charakterbeschreibung von Harrison 'H.R.' Wells (Erde-19)
Zur Charakterbeschreibung von Harrison 'Sherloque' Wells (Erde-221)

Ceren K. - myFanbase

Meistgelesen
Aktuelle Kommentare
Verpasst keine News und Updates