Häufig gestellte Fragen

Euch brennt eine dringende Frage zu der Serie "The Flash" unter den Nägeln? Dann her damit! An dieser Stelle beantworten wir die am häufigsten gestellten, spannendsten und wichtigsten Fragen!

Wenn Ihr eine Frage zu der Serie "The Flash" habt, dann schreibt einfach eine E-Mail an mary@myfanbase.de oder meldet euch unten in den Kommentaren.

---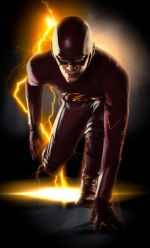 Grant Gustin, The Flash
© Warner Bros. Entertainment Inc.
Wann läuft die Serie in den USA?

"The Flash" geht am 7. Oktober 2014 auf dem amerikanischen Sender The CW auf Sendung. Ab Herbst 2016 wird die dritte Staffel der Erfolgsserie ausgestrahlt.

Staffel 1: 07.10.2014 - 19.05.2015
Staffel 2: 06.10.2015 - 24.05.2016
Staffel 3: 04.10.2016 - 23.05.2017
Staffel 4: 10.10.2017 - ???

Seit wann läuft die Serie in Deutschland?

In Deutschland liegen die Rechte der Serie bei ProSieben. Der Sender hat die erste Staffel ab Februar 2015 ausgestrahlt.

Staffel 1: 10.02.2015 - 03.11.2015
Staffel 2: 22.03.2016 - 25.08.2016
Staffel 3: 20.06.2017 - ???

"The Flash" ist ein Spin-Off zu der Erfolgsserie "Arrow. Wann und wie wurde "The Flash" in "Arrow" eingeführt

Barry Allen hatte in den Folgen #2.08 Das Serum und #2.09 Drei Geister als forensischer Mitarbeiter des Central Police Department einen Gastauftritt in "Arrow". Er rettet Oliver Queen das Leben und freundet sich mit Felicity Smoak an. Er entdeckt auch die zweite Identität von Oliver und schenkt ihm zum Schluss eine Maske, damit er sein Gesicht nicht mehr schminken muss. Als Barry wieder nach Central City zurückkehrt, findet die Explosion statt und er wird von einem Blitz getroffen und fällt ins Koma.

Haben die Hauptdarsteller einen Twitteraccount?

Ja, ein paar der Hauptdarsteller haben einen Twitteraccount:

Grant Gustin bei Twitter

Wo wird die Serie gedreht?

Der Drehort der Serie "The Flash" befindet sich hauptsächlich in Vancouver, British Columbia, Kanada.

Maria Schoch - myFanbase

Meistgelesen
Aktuelle Kommentare
Verpasst keine News und Updates