Rupert Friend schließt sich Adaption "The Wonderful Story of Henry Sugar" von Netflix an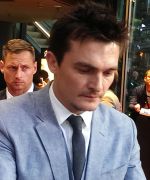 Rupert Friend bei der "Hitman: Agent 47"-Weltpremiere am 19. August 2015 in Berlin
© Jeanne Plaumann
Im vergangenen September hat sich Streamingdienst Netflix den vollständigen Katalog von Roald Dahl rechtlich gesichert und kurz darauf wurde mit "The Wonderful Story of Henry Sugar" bereits das erste große Projekt unter der Federführung von Wes Anderson angekündigt. Nach Namen wie Benedict Cumberbatch, Dev Patel, Ralph Fiennes und Ben Kingsley wurden nun frisch die beiden folgenden Namen genannt: Rupert Friend und Richard Ayoade ("The IT Crowd").

Zwar ist zu der Umsetzung bislang noch wenig bekannt, aber das Originalbuch besteht aus sieben Kurzgeschichten und es wird gemunkelt, dass wohl mindestens drei Minifilme entstehen sollen, die ähnlich dem Stil der Coen-Brüder sein soll. Die Produktion beginnt nächste Woche in London.

Friend ist vor allem aus "Homeland" bekannt. Für dieses Jahr ist es für "Obi-Wan Kenobi" von Disney+ und "Anatomy of a Scandal" von Netflix angekündigt.
Quelle: Deadline
Lena Donth - myFanbase
14.01.2022 17:10
Weitere News
mehr News
Meistgelesen
Verpasst keine News und Updates