Rupert Friend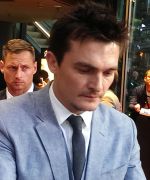 Rupert Friend bei der "Hitman: Agent 47"-Weltpremiere am 19. August 2015 in Berlin
© Jeanne Plaumann
Rupert Friend wurde am 1. Oktober 1981 in Oxfordshire in England geboren. Das er einmal sein Glück in der Schauspielerei versuchen sollte, wäre ihm in jungen Jahren noch nicht in den Sinn gekommen, denn er begann sich erst nach seiner Schulausbildung für diese Kunst zu interessieren. Er bewarb sich an der Webber Douglas Academy of Dramatic Art in London und wurde zu seiner Überraschung angenommen, obwohl er bis dato noch keinerlei Erfahrung gesammelt hatte.

Sein Filmdebüt gab Rupert Friend 2004 neben Johnny Depp in "The Libertine", für das er gleich als bester Nachwuchskünstler bei den Satellite Awards ausgezeichnet wurde. Es folgten wichtige Rollen in "Stolz & Vorurteil" und "Young Victoria". Rupert Friend versucht sich aber auch als Drehbuchautor und Regisseur hinter der Kamera. 2008 schrieb er gemeinsam mit seinem Studienkollegen Tom Mison den Kurzfilm "The Continuing and Lamentable Saga of the Suicide Brothers", 2010 schrieb und produzierte er einen weiteren Kurzfilm namens "Steve", bei dem er zudem Regie führte.

2012 wurde Rupert Friend dann auch in den Vereinigten Staaten von einem breiteren Publikum entdeckt, denn er stieß in der zweiten Staffel zum Cast der erfolgreichen Showtime-Serie "Homeland". Er verkörpert darin den mysteriösen CIA-Agenten Peter Quinn. Die Rolle hat ihm eine Nominierung als bester Gastdarsteller bei den Emmy Awards 2013 eingebracht.

Privat war Rupert Friend fünf Jahre mit seiner Schauspielkollegin Keira Knightley liiert, sie hatten sich bei den Dreharbeiten zu "Stolz & Vorurteil" kennengelernt. 2010 hat sich das Paar dann aber einvernehmlich getrennt. Seit 2016 ist er mit der Schauspielerin Aimee Mullins verheiratet.

Cindy Scholz - myFanbase
Ausgewählte Filmographie (Schauspieler)
2022
Anatomie eines Skandals (TV) als James Whitehouse
Originaltitel: Anatomy of a Scandal (TV)
2022
High Desert (TV) als Guru Bob
Originaltitel: High Desert (TV)
2019
Van Gogh - An der Schwelle zur Ewigkeit als Theo van Gogh
Originaltitel: At Eternity's Gate
2018 - 2019
Strange Angel (TV) als Ernest Donovan
Originaltitel: Strange Angel (TV)
2018
Nur ein kleiner Gefallen als Dennis Nylon
Originaltitel: A Simple Favor
2012 - 2017
Homeland (TV) als Peter Quinn
Originaltitel: Homeland (TV)
2013
Meet Me in Montenegro als Stephen
Originaltitel: Meet Me in Montenegro
2012
Renee als David McKenna
Originaltitel: Renee
2011
5 Days of War (TV) als Thomas Anders
Originaltitel: 5 Days of War
2010
Lullaby for Pi als Sam
Originaltitel: Lullaby for Pi
2010
The Kid als Kevin Lewis
Originaltitel: The Kid
2009
The Continuing and Lamentable Saga of the Suicide Brothers als Bourbon
Originaltitel: The Continuing and Lamentable Saga of the Suicide Brothers
2009
Chéri - Eine Komödie der Eitelkeiten als Chéri
Originaltitel: Chéri
2009
Young Victoria als Prinz Albert
Originaltitel: The Young Victoria
2008
Der Junge im gestreiften Pyjama als Lieutenant Kotler
Originaltitel: The Boy in the Striped Pyjamas
2005
Stolz & Vorurteil als Mr. Wickham
Originaltitel: Pride & Prejeduice
2004
The Libertine - Sex, Drugs & Rococo als Downs
Originaltitel: The Libertine
Ausgewählte Filmographie (Produktion)
2010
Steve als Drehbuchautor/Regisseur/Produzent
Originaltitel: Steve
2009
The Continuing and Lamentable Saga of the Suicide Brothers als Drehbuchautor/Produzent
Originaltitel: The Continuing and Lamentable Saga of the Suicide Brothers
Steckbrief
| | | |
| --- | --- | --- |
| Geburtstag | | 01.10.1981 |
| Geburtsort | | Oxfordshire, England, UK |
Bereiche
Aktuelle Kommentare

23.05.2022 11:43
Mir gefällt die aktuelle Staffel von Fire auch sehr gut...
von Sharon Kl

23.05.2022 11:36
Ich äußere mich zu der Serie mal bei dieser Staffel....
von Sharon Kl
mehr Kommentare
Verpasst keine News und Updates