Staffel 5 von "Gotham" erscheint Ende Oktober 2020 auf DVD und Blu-ray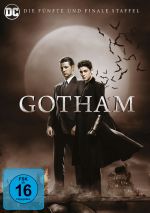 Gotham
© 2019 Warner Bros. Entertainment Inc. All Rights Reserved. "GOTHAM" and all related elements are trademarks of DC Comics.
Schon vor einer Weile wurde die fünfte und finale Staffel von "Gotham" in Deutschland ausgestrahlt. Am 29. Oktober 2020 erscheint die komplette Staffel auf DVD und Blu-ray.

Die komplette fünfte Staffel von "Gotham" bei Amazon vorbestellen:
DVD | Blu-ray

Die finalen zwölf Episoden sind auf fünf DVDs bzw. zwei Blu-rays aufgeteilt und bieten eine Spieldauer von über acht bzw. neun Stunden. Die Boxen sind ab 16 Jahren freigegeben und bieten als Sprachauswahl Deutsch, Englisch und Italienisch an. Als Untertitel werden Deutsch, Englisch und Italienisch angeboten.

Als Bonusmaterial wird Folgendes angeboten:

Die Schurken: Was sie antreibt und was sie ausmacht
"Gotham" - Staffel 5: Die Highlights der New York Comic-Con 2018
"Gotham": Eine moderne Mythologie
"Gothams" letztes Gefecht
Nicht verwendete Szenen


Die fünfte und letzte Staffel von "Gotham" schließt die legendäre Serie in einem unvergesslichen Ereignis ab und befasst sich mit Bruce Waynes (David Mazouz) ultimativer Verwandlung in den Rächer mit dem Umhang, während Jim Gordon (Benjamin McKenzie) Probleme hat, eine Stadt zusammen zu halten, die am Rande des Chaos steht. Auf die Ereignisse der letzten Staffel folgend, wird die Legende des dunklen Ritters fortgesetzt, als Gotham City zwischen Gordons GCPDHerrschaft und einige der berüchtigsten Lieblingsbösewichte der Stadt - wie dem Pinguin (Robin Taylor), dem Riddler und mehr - gespalten ist. Als die Helden der Stadt versuchen, die Kontrolle zu erlangen und das zu retten, was von der verfallenden Stadt noch übrig ist, wankt diese zwischen Gut und Böse, sogar als neue Bösewichte, einschließlich des legendären Banes (Shane West), vorgestellt werden.

Alles Weitere findet ihr in unserem ausführlichen "Gotham"-Serienbereich.
Externer Inhalt
An dieser Stelle ist Inhalt von einer anderen Website (z. B. YouTube, Twitter...) eingebunden. Beim Anzeigen werden deine Daten zu der entsprechenden Website übertragen.
Quelle: Universal Pictures
Daniela S. - myFanbase
21.10.2020 12:29
Weitere News
mehr News
Meistgelesen
Verpasst keine News und Updates