Styr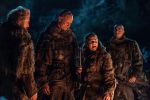 Kristofer Hivju, Yuriy Kolokolnikov & Rose Leslie, Game of Thrones
© 2013 Home Box Office, Inc. All rights reserved. HBO® and all related programs are the property of Home Box Office, Inc.; Sky
Styr ist der Magnar von Thenn und damit der Anführer der Thenns, einem kriegerischen Stamm der Wildlinge, welcher ebenfalls unter dem Kommando von Mance Rayder kämpft. Mit seiner Axt als Markenzeichen gilt er als überaus gefährlich und brutal. Er hat viele Narben im Gesicht und gilt unter seinen Gefolgsleuten als gefürchteter Krieger. Die Thenns sind außerdem bekannt für ihre barbarischen Rituale und ihrem Kannibalismus.

Als die Wildlinge einen Übergriff auf die Mauer planen, sind Styr und seine Gefolgsleute sofort Feuer und Flamme und sprechen Mance Rayder Unterstützung zu.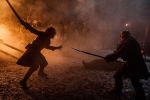 Kit Harington & Yuriy Kolokolnikov, Game of Thrones
© 2013 Home Box Office, Inc. All rights reserved. HBO® and all related programs are the property of Home Box Office, Inc.; Sky
Styr führt seinen Trupp der Thenns zu Tormund und Ygritte. Dort lässt er keine Sekunde aus, um Tormund zu provozieren. Zuerst macht er sich über Orells Tod lustig und dann, das Jon Schnee noch immer am Leben ist, was Ygritte wütend stimmt. Danach verspeist er mit seiner Gruppe einige Leichen der Nachtwache, die sie auf ihrem Weg getötet haben.

Um langsam zur Mauer vorzudringen, überfallen wir Wildlinge und Thenns ein Dorf. Styr tötet die Bewohner gnadenlos mit seiner Axt und nimmt einen kleinen Jungen gefangen. Bevor er ihn zur Nachtwache sendet, um zu berichten was geschehen ist, macht er dem verängstigten Jungen klar, dass er dessen Mutter und Vater nun essen wird.

Auch Mulwarft wird von Styr und Tormund attackiert. Kurz vor der entscheidenden Schlacht geraten Ygritte und Styr aneinander, als jener Ygritte vorwirft, noch immer Gefühle für Jon zu hegen und dass sie versagt habe. Ygritte bedroht Styr abermals, solle jemand Jon Schnee töten, werde sie denjenigen töten. Denn Ygritte selbst möchte Jon hinrichten. Styrs Warg unterbricht das Unterfangen, da Mance Rayder das Signal zum Angriff gegeben hat. Sie stürmen die Schwarze Festung und im Innenhof erlegt Styr viele Nachwächter, bevor er Jon sieht. Sofort attackiert er Jon und ist sich siegessicher, doch er hat nicht mit Jons Widerspenstigkeit gerechnet. Jon kann gerade noch in sein Gesicht spucken und sich von dem Würgegriff befreien. Dann schlägt Jon Styr einen Hammer in dessen Kopf. Styrs Leiche wird mit die der getöteten Wildlinge verbrannt.

Tanya Sarikaya - myFanbase

Meistgelesen
Aktuelle Kommentare

30.11.2020 22:04
Ich hab die Serie auch kürzlich für mich entdeckt und...
von Gaby

30.11.2020 19:19
Ich muss auch sagen, dass ich mit dem (vorgezogenen)...
von Daniela
mehr Kommentare
Verpasst keine News und Updates