Peacock zeigt neuen Trailer für Oktober-Neustart "A Friend of the Family" mit Anna Paquin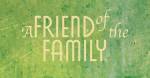 Am 6. Oktober 2022 startet bei Streamingdienst Peacock die neue Serie "A Friend of the Family", in der auch Anna Paquin, Colin Hanks und weitere eine Rolle eingenommen haben. Bei den gestrigen Emmys wurde durch den Streamingdienst ein neuer Trailer gezeigt (siehe unten).

"A Friend of the Family" ist eine neunteilige Serien, deren Ereignisse sich 1970 zugetragen haben. Im Zentrum steht Familie Broberg, die in der Kirche der Kleinstadt aktiv sind. Dort lernen sie auch eines Tages die neu hinzugezogene Familie Berchtold kennen. Da Robert (Jake Lacy) und Gail (Lio Tipton) selbst Kinder haben, wachsen die beiden Familien immer weiter zusammen, jedoch entpuppt sich Robert nicht als der Freund, der er vorgibt zu sein. Er missbraucht die Tochter der Brobergs, Jan (Mckenna Grace im Teenageralter und Hendrix Yancey in jungen Jahren), und entführt diese zweimal als 12- und 14-Jährige.

Peacock Originals bei WOW streamen

Anna Paquin wird Jans Mutter Mary Ann spielen und Colin Hanks tritt als Jans Vater Bob auf. Die Brobergs haben mit Karen und Susan noch zwei jüngere Töchter.

Hinter der True-Crime-Serie steht Nick Antosca.
Externer Inhalt
An dieser Stelle ist Inhalt von einer anderen Website (z. B. YouTube, Twitter...) eingebunden. Beim Anzeigen werden deine Daten zu der entsprechenden Website übertragen.
Quelle: Peacock
Daniela S. - myFanbase
13.09.2022 23:11
Weitere News
Meistgelesen
Verpasst keine News und Updates