"Supernatural" geht vorläufig in Sendepause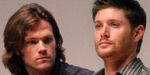 Das Schicksal von "Supernatural" in Zeiten der Coronakrise bewegt viele Serienfans, denn Staffel 15 ist bekanntlich die letzte und hat somit ein würdiges Ende verdient. Vergangene Woche haben wir euch berichtet, dass das Staffelfinale möglicherweise in Form einer Eventprogammierung ausgestrahlt wird. Gestern wurde nun auch bekannt, dass der weitere Sendeplan von "Supernatural" ordentlich durcheinander geraten ist.

Gestern wurde auf The CW #15.13 Destiny's Child ausgestrahlt, die die Rückkehr von Danneel Ackles und Genevieve Padalecki für Gastauftritte beinhaltete und diese Episode wird für längere Zeit die letzte sein, die ausgestrahlt wurde. Produzent Andrew Dabb verkündete auf Twitter (siehe unten) dazu: "Das wird unsere letzte Episode für eine Weile sein." Darauf gab es einige besorgte Nachfragen, da zuvor ja bekannt geworden war, dass man wesentlich mehr Episoden abgedreht hat. Dabb erklärte dazu: "Klarstellung: Wir haben bis zu Episode 18 abgedreht, aber unsere Abteilungen für visuelle Effekte und Ton haben aufgrund des Ausbruchs geschlossen. Daher können die Episoden aktuell nicht fertig gestellt werden." Damit wird auch die eigentlich für nächste Woche angekündigte Episode #15.14 Last Holiday auf später verschoben.

Zudem bestätigte Dabb auch noch einmal, dass die Serie definitiv ein würdiges Ende erhalten wird: "Wir, the CW und Warner Bros. beabsichtigen zurückzukehren und die Serie zu beenden. Es ist keine Frage von 'ob', sondern eine Sache des 'wenn'."

Mehr zu "Supernatural" erfahrt ihr in unserem ausführlichen Serienbereich und den Spoilern.
Externer Inhalt
An dieser Stelle ist Inhalt von einer anderen Website (z. B. YouTube, Twitter...) eingebunden. Beim Anzeigen werden deine Daten zu der entsprechenden Website übertragen.
Quelle: TVLine, @andrewdabb via Twitter
Lena Donth - myFanbase
24.03.2020 09:23
Weitere News
mehr News
Meistgelesen
Verpasst keine News und Updates