Interview with Kenny Johnson
August 14, 2015 | Interviewing Kenny Johnson is like having a great inspiring talk with your best friend about your favorite tv shows. Only he was in these shows, some of the best shows on tv, and can give great insights which he did when we sat down at the "Sons of Anarchy" Party Weekend in Oberhausen for an amazingly fun and laid-back chat. Kenny talks about his job and his characters with as much heart as any fan could wish for so we were happy to ask him a lot of questions first on "The Shield" and his upcoming show "Secrets and Lies".

Click here to read Kenny's answers about "Sons of Anarchy", "Bates Motel" and "Chicago Fire".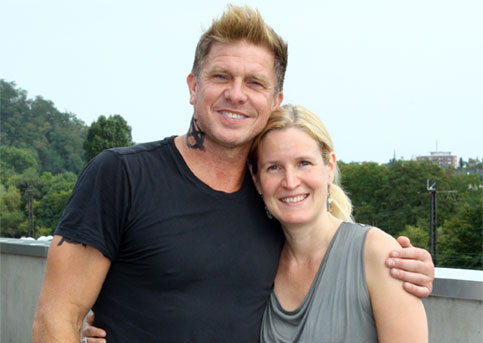 Kenny Johnson und Nicole Oebel beim Interview
© myFanbase
---
Note: © myFanbase 2015 - The interview is exclusive to myFanbase and may not be published on other websites or the like. You may share the first two questions (up to 180 words) if you link back to this site. Translations other than English and German may be posted with full credit including the link to this site.
---
Secrets and Lies:

You're gonna be on season 2 which is gonna be connected with season 1 only through Cornell (Juliette Lewis). And we've learnt you're gonna be someone with a mission who stops at nothing. What are you most excited about?

Just that! You don't know why he's there, he's looking for something. He's a New York cop who goes off the grid. I can't really tell you the backstory because obviously I don't wanna give anything away. But because of him going after what he's after he becomes one of the suspects in this murder they try to solve in the 10 episodes. He's kind of mysterious, ambiguous, supposed to be thuggish, menacing, and he shows up at all the worst times for the other characters so he makes them uncomfortable and then eventually it's gonna unfold who he is and why he's there. So it's kinda cool, I think it's great.

I'm looking forward to seeing that!

Thank you!

The Shield:

We talked to Walton Goggins a little while back and he said "Shawn Ryan had a masterplan but it would change kind of in the middle based on what he saw, week to week, episode to episode." Is that something you experienced, things changing in your storyline?

Shawn wrote the pilot and he basically had nothing after that. So when FX picked it up it was his first pilot that he ever sold. And he was kinda like, well I have no plan cuz I didn't even know they were gonna buy it. And then they bought it and made it and it got picked up. So he was like, ok where am I gonna go from here? And I know he had Vic Mackey as the prime driving force through the show but originally it wasn't based around the strike team. Before the series started Shawn hired me as a regular and Walton and they saw this chemistry between us that worked and his storyline kind of went towards the strike team and the corruption within the department. I know exactly what Walt said, week to week if Shawn would see something in a character you played that wasn't written he'd get ideas and kinda go with it. So whatever was going on emotionally or if there were some weird quirks about somebody he would kinda get intrigued by it and switch the whole storyline in that direction. So you really didn't have a lot of rules like, this is what I have for the seven seasons and this is how I want it to go.

When the audience got involved enough in a character that's when he decided that Lem is the conscious of this group of guys and of the show and if we take him out that would be the beginning of the end. He came up with that at the beginning of season 5 and he tried to accomplish that by the end. Then it was kinda earned that the audience would have felt like the conscious got stabbed and once that was gone it would unravel in two seasons and ended the way it did with Mackey.

So you're already there at your death scene which was just heartbreaking! How did you find out about that? And how was it to leave the show after five years?

I found out about four months before they did it. He told me what he was gonna do and why he was doing it. It was the best thing for the storytelling. I was really bummed about it because we all came in together and we wanted to go out together. Walton, Michael (Chiklis) and myself were inseparable, we're best friends. So for that to have to end was really tough. I didn't tell anybody until they all got the script a week before like I promised Shawn that I wouldn't leak a word...

Walton didn't know either?

The thing about him is he and I were best friends prior to the show and so he knows me and he could tell something was wrong but I wouldn't tell him. But he kept prying and then he goes, listen to me, I'm gonna ask you a question and if the answer is yes, just don't say anything. And he goes, are you leaving the show? I just looked away and he kinda broke down, he jumped in his car and took off. He got really emotional then I got really emotional and then I called him up right away and said, listen don't tell anybody anything cuz I promised Shawn that I wouldn't say a word. He said he wouldn't obviously. For me it was hard leaving the show cuz they were like my family. I would go back and visit the set but it was hard. I couldn't watch the show for 1.5 years after I left because emotionally I was too attached to everybody and in my heart it felt wrong. Then about 1.5 years later I'm like ok, the show is almost done I need to start watching it and then I watched the whole thing.

Looking back, what would you say you learnt working on this show?

Character growth obviously and relationships between characters that became so real on the show with us that it just made me a better actor. And the show itself brought Glenn Close and Forest Whitaker on and the caliber of the writing speaks for itself. David Mamet came on to direct, Frank Darabond, so there were a lot of high profile people that came in to be a part of it cuz it was about storytelling and great writing and it wasn't like this is a tv show vs. a movie. It was awesome.

Do you remember something you found especially challening?

I try to make everything as real as possible so putting the character Lem in this situation where we would set up innocent people or knock people off in order to get people off our trail, I would try to take that home and personalize it. What if this was me? And how would I feel? I let a lot of it eat away at me, a lot of guilt and lot of turmoil. I would get stomach cramps and then Shawn wrote that in also because I really did always have these stomach cramps because you try to get inside the head of these characters. Having that go week to week and then by the fifth season sometimes I wasn't going to bed until 3 in the morning and then I'd wake up at 4.30 to go shoot again. So it kinda wear on you a little bit and you felt like you were living that life. So that was challenging for me.

Click to read part 2 of the interview with Kenny Johnson

Nicole Oebel - myFanbase

Kommentare
Meistgelesen
Aktuelle Kommentare
Verpasst keine News und Updates