Kyle XY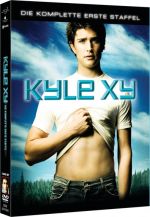 © Buena Vista Home Entertainment. Inc. and Disney
Die amerikanische Serie "Kyle XY" kann als Teen-Drama mit Mystery- und Science-Fiction-Elementen bezeichnet werden. Als Serienschöpfer sind Eric Bress und J. Mackye Gruber für die Serie verantwortlich, aber auch die u.a. für "Vampire Diaries" zuständige Julie Plec gehörte zum Autoren- und Produzententeam.

ABC Family zeigte die in Vancouver gedrehte Serie in den USA in Erstausstrahlung von 2006 bis 2009 mit zunächst Topquoten für den Sender, die dann aber bis zur dritten Staffel drastisch sanken, bis ABF Family sich im Januar 2009 entschied, der Serie keine vierte Staffel einzuräumen.

Das Serienfinale hinterließ die Zuschauer mit vielen offenen Fragen, die zum Teil im DVD-Special "Kyle XY: Future Revealed" beantwortet werden. Es wurde ein Soundtrack veröffentlicht (bei amazon bestellen) und außerdem gab es zwei Bücher zur Serie: "Kyle XY: Nowhere to Hide" (bei amazon bestellen) und "Kyle XY: Under the Radar".

---
Serienmacher: Eric Bress, J. Mackye Gruber
US-Starttermin: 26.06.2006 auf ABC Family
D-Starttermin: 8.12.2007 auf ProSieben
Staffeln:

---

Ein Junge im Teenageralter wacht im Wald in der Nähe von Seattle auf, ohne Erinnerung, ohne Sprache, unbekleidet - und ohne Bauchnabel. In der Stadt erregt er angesichts seiner Nackheit Aufsehen und wird in eine Jugendstrafanstalt gebracht. Dort kümmert sich die Psychologin Dr. Nicole Trager um ihn und gibt ihm den Namen Kyle. Sie erkennt, dass er ein freundliches Wesen hat... mehr


Der damals 24-jährige Matt Dallas war 2006 in der TV-Welt noch ein recht unbeschriebenes Blatt. Er landete in "Kyle XY" seine erste Hauptrolle und trug die Serie mit seiner fesselnden Ausstrahlung vom ersten bis zum letzten Moment. Fähige Darsteller wie Marguerite MacIntyre und Nicholas Lea bildeten das Ensemble um ihn herum, spielten den jungen Darsteller aber niemals an die Wand... mehr

Ein Jugendlicher ohne Gedächtnis, ohne Sprache, ohne Kenntnis menschlicher Umgangsformen, aber mit überdurchschnittlich hoher Intelligenz und einem liebenswertem Wesen trifft auf eine normale, aufgeschlossene Familie mit intaktem Familienleben, die ihn bei sich aufnimmt. Nach und nach erfährt Kyle mehr über sich und forscht gemeinsam mit Familie Trager... mehr

Kommentare
Meistgelesen
Aktuelle Kommentare
Verpasst keine News und Updates