Cult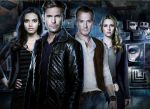 © Warner Bros. Entertainment Inc.
"Cult" startete am 19. Februar 2013 auf dem Sender The CW, erweckte aufgrund der Thematik aber schon vorab das Interesse der Kritiker. Die Serie zeigt Matthew Davis ("Vampire Diaries") und Jessica Lucas ("Melrose Place") auf der Suche nach dem Bruder des Hauptcharakters, der sich intensiv mit einer Fernsehserie namens "Cult" beschäftigte und dort eine Sekte innerhalb der Fangemeinde ausmachen konnte. Die Serie in der Serie zeigt Robert Knepper ("Prison Break", "Heroes") und Alona Tal ("Supernatural") als Hauptdarsteller. Serienmacher Rockne S. O'Bannon erschuf bereits "Farscape" und war bei "V - Die Besucher" als Drehbuchautor tätig.

Nachdem die Show zunächst donnerstags lief, wurde sie aufgrund von schlechten Quoten auf den unbeliebteren Freitag verschoben, bis die Ausstrahlung nach nur sieben Folgen eingestellt wurde. Die verbleibenden sechs Episoden wurden im Sommer als Doppelfolgen ausgestrahlt.

---
Serienmacher: Rockne S. O'Bannon
US-Starttermin: 19.02.2013 auf The CW
Staffeln:

---
Als Nate mit Fans der Fernsehserie "Cult" in Kontakt tritt, verschwindet er bald und sin Bruder Jeff muss, um ihn wiederzufinden, die Natur der Fangemeinde ergründen. Dieser scheint eine eigene Sekte zu Grunde zu liegen ...mehr

"Cult" wird von vier Hauptdarstellern getragen, die allesamt schon viel Erfahrung im TV-Geschäft haben. Robert Knepper dürfte den meisten noch aus "Prison Break" bekannt sein und Matthew Davis überzeugte die Zuschauer in "Vampire Diaries" ...mehr


Im Zentrum von "Cult" steht der Journalist Jeff Sefton (Matthew Davis), dessen Bruder Nate (James Pizzinato) spurlos verschwindet. Als Jeff versucht seinen Bruder zu finden, stößt er auf die TV-Serie "Cult" ...mehr


Hier findet ihr alle Reviews zur Serie, darunter eine Kritik zur Pilotfolge und den Rückblicke auf die gesamte erste Staffel, die zu den enttäuschendsten der Season zählt ...mehr

Meistgelesen
Aktuelle Kommentare

14.06.2019 10:05
Für mich ist die Welt selbst eine Muse, in ihrer...
von Karin K.

13.06.2019 13:43
Mir hat die Folge auch extrem gut gefallen! Als am Ende...
von Sonia
mehr Kommentare
Verpasst keine News und Updates