Joanna Vanderham wird zum Bösewicht für "Legends of Tomorrow" (Spoiler)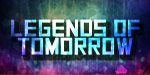 Joanna Vanderham ist für eine Nebenrolle in der fünften Staffel von "Legends of Tomorrow" gebucht worden. Sie wird einen Bösewicht spielen, der als gewissenslose Tötungsmaschine beschrieben wird, dessen Dolche aus Knochen ist. Wo sie hingeht, folgt ihr die Tod. Einen Namen hat ihre Figur aber noch nicht.

Die Produzenten haben aber verraten, dass Vanderhams Figur eine gemeinsame Vergangenheit mit Charlie (Maisie Richards-Sellers) hat. "Als sie [Vanderhams Charakter] auf die Waverider kommt, werden Charlie - und die Legends - niemals mehr so sein wie zuvor."

In dieser Woche hat "Legends of Tomorrow" seine inoffizielle Staffelpremiere gefeiert, da mit #5.00 Crisis on Infinite Earths (5) ein Teil des großen Crossovers gelaufen ist. Diese Episode hat einiges für die The CW-Serien auf den Kopf gestellt, so dass die offizielle Staffelpremiere am kommenden 21. Januar 2020 mit #5.01 Meet the Legends sehr spannend werden dürfte.

Alle weiteren Informationen erhaltet ihr in unserem ausführlichen Serienbereich.
Externer Inhalt
An dieser Stelle ist Inhalt von einer anderen Website (z. B. YouTube, Twitter...) eingebunden. Beim Anzeigen werden deine Daten zu der entsprechenden Website übertragen.
Quelle: Deadline
Lena Donth - myFanbase
17.01.2020 19:05
Weitere News
mehr News
Meistgelesen
Verpasst keine News und Updates