Osric Chau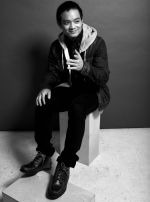 Osric Chau
© John Agcaoili Photographer, Charmaine Adrina & John Nguyen Stylist, Ivadell Vida MUA, Mary Craig Hairstylist,
www.dsotm-us.com
Osric Chau, von seinen Freunden für gewöhnlich Oz oder Ozzie genannt, wurde am 20. Juli 1986 in Vancouver, Kanada geboren. Seit seiner Kindheit trainierte er die Kampfsportarten Wushu und Wing Chun, um einmal Stuntman zu werden. Er erreichte schließlich sein Ziel und machte nicht nur Stuntarbeit, sondern koordinierte auch Stunts. Nach zwei TV-Gastauftritten bekam er das Angebot, eine Rolle in "Kung Fu Killer" zu spielen. In dem TV-Film, der in Hengdian, China gedreht wurde, spielt er Lang Han. Damit war sein Interesse am Schauspielgeschäft geweckt.

Der Kanadier chinesischer Abstammung war ein Jahr später in einer Nebenrolle als Nima im Roland Emmerich-Blockbuster "2012" zu sehen. Anschließend zog er für eine Weile nach Peking und lernte Mandarin, um auch in chinesischen Filmen Rollen annehmen zu können. 2012 konnte man Chau in "Mister French Taste", einer kleinen TV-Serie als Leon sehen. Er schrieb auch das Drehbuch zum Piloten. Des weiteren landete Chau in "Supernatural" als Kevin Tran seine wohl bisher bekannteste Rolle.

Mit seinem Können im Kampfsport hat Chau bereits Preise gewonnen und eigene Klassen unterrichtet. Er ist ein angesehener Kampfsportler.

Jamie Lisa Hebisch - myFanbase
Ausgewählte Filmographie (Schauspieler)
Ausgewählte Filmographie (Produktion)
2012
Mister French Taste (#1.01 The Job Interview) (TV) als Drehbuchautor
Originaltitel: Mister French Taste (#1.01 The Job Interview) (TV)
Steckbrief
| | | |
| --- | --- | --- |
| Geburtstag | | 20.07.1986 |
| Geburtsort | | Vancouver, Kanda |
Aktuelle Kommentare

20.01.2020 18:01
Hi, ich habe gerade gelesen, dass er den Reverse-Flash...
von Ute W.

19.01.2020 16:49
Wirklich als Schauspielerin? Ich hatte nämlich eher das...
von Lena
mehr Kommentare
Verpasst keine News und Updates