Lauren Cohan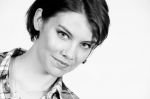 Lauren Cohan wurde 1982 in Philadelphia im Bundesstaat Pennsylvania geboren und wuchs in Cherry Hill, einer Stadtgemeinde in New Jersey, auf, bevor sie nach Großbritannien zog. Seit ihrem fünften Lebensjahr wurde sie als Jüdin großgezogen, ist heute aber nicht mehr besonders gläubig. In Großbritannien besuchte sie die University of Winchester und schloss mit einem Bachelor of Arts in Drama und englischer Literatur ab. Während ihres Studiums gründete sie eine Theatergruppe, mit der sie nach dem Abschluss eine Weile auf Festivals auftrat und durch das Land reiste. Lauren teilte sich nun ihre Zeit ein, sodass sie in London und Los Angeles arbeiten konnte. Sie nimmt außerdem Kickboxen-Unterricht und möchte mit ihrem Freund irgendwann einmal nach Israel reisen.

2005 konnte sie sich ihre erste Hauptrolle in dem Film "The Quiet Assassin" sichern und wirkte zudem in einigen nichtkommerziellen Projekten mit. Es folgten das Drama "Casanova" als Schwester Beatrice und die Fortsetzung von "Party Animals" - "Van Wilder 2: The Rise of Taj" - als Charlotte Higginson. Nach einer weiteren Filmrolle in "Young Alexander the Great" stieß sie in der dritten Staffel von "Supernatural" als Bela Talbot zum Hauptcast. Es folgten weitere wichtige Nebenrollen, so in der 2010/2011-TV-Season in "Vampire Diaries" und "Chuck". Seit 2011 ist die in AMCs "The Walking Dead" als Maggie Greene zu sehen. 2012 wurde sie dort zur Hauptdarstellerin befördert. 2018 hat sie sich von der Serie verabschiedet. Nachdem ihre neue Serie "Whiskey Cavalier" nach nur einer Staffel wieder abgesetzt wurde, verschlägt es sie 2021 wieder zu "The Walking Dead".

Momentan lebt sie in Los Angeles.

Anja Schmidt & Jamie Lisa Hebisch - myFanbase
Ausgewählte Filmographie (Schauspieler)
2011 - 2021
The Walking Dead (TV) als Maggie Greene
Originaltitel: The Walking Dead (TV)
2019
Whiskey Cavalier (TV) als Frankie Trowbridge
Originaltitel: Whiskey Cavalier (TV)
2018
Mile 22 als Alice Kerr
Originaltitel: Mile 22
2017
Robot Chicken (TV) als Maggie Greene (Stimme)
Originaltitel: Robot Chicken (#9.00 The Robot Chicken Walking Dead Special: Look Who's Walking) (TV)
2016
The Mindy Project (TV) als Ashley
Originaltitel: The Mindy Project (#4.18 Bernardo & Anita & #4.19 Baby Got Backslide) (TV)
2016
Batman v Superman: Dawn of Justice als Martha Wayne
Originaltitel: Batman v Superman: Dawn of Justice
2014
Archer (TV) als Juliana (Stimme)
Originaltitel: Archer (TV)
2013
Law & Order: New York als Avery Jordan
Originaltitel: Law & Order: Special Victims Unit (#14.18 Legitimate Rape) (TV)
2010 - 2012
Vampire Diaries (TV) als Rose-Marie
Originaltitel: The Vampire Diaries (TV)
2011
Death Race 2 als September Jones
Originaltitel: Death Race 2
2011
Chuck (TV) als Vivian McArthur
Originaltitel: Chuck (TV)
2010
CSI: NY (TV) als Meredith Muir
Originaltitel: CSI: NY (#6.13 Flag on the Play) (TV)
2010
Cold Case - Kein Opfer ist je vergessen (TV) als Rachel Malone
Originaltitel: Cold Case (#7.16 One Fall) (TV)
2010
Practical als Lauren
Originaltitel: Practical
2010
Disturbed als Claire
Originaltitel: Disturbed
2010
Young Alexander the Great als Leto
Originaltitel: Young Alexander the Great
2010
Modern Family (#2.05 Mit Windmühlen gegen die Realität) (TV) als Empfangsmitarbeiterin
Originaltitel: Modern Family (TV)
2009
Life (TV) als Jackie Rolder
Originaltitel: Life (#2.20 Initiative 38) (TV)
2008
Float als Emily Fulton
Originaltitel: Float
2008
Valentine (#1.01 Pilot) (TV) als Joanna Clay
Originaltitel: Valentine (TV)
2007 - 2008
Supernatural (TV) als Bela Talbot
Originaltitel: Supernatural (TV)
2007
Young Alexander the Great als Leto
Originaltitel: Young Alexander the Great
2007
Fashion Affairs (TV) als Forrester Creations Angestellte
Originaltitel: The Bold and the Beautiful (TV)
2006
Van Wilder 2: The Rise of Taj als Charlotte
Originaltitel: Van Wilder 2: The Rise of Taj
2005
Casanova als Sister Beatrice
Originaltitel: Casanova
2005
The Quiet Assassin
Originaltitel: The Quiet Assassin
Steckbrief
| | | |
| --- | --- | --- |
| Geburtstag | | 30.11.1982 |
| Geburtsort | | Philadelphia, Pennsylvania, USA |
Aktuelle Kommentare

30.11.2021 22:50
Mir gefällt die moderne Interpretation, dass Carrie...
von Catherine

26.11.2021 13:44
War diese Woche auch schon ganz durcheinander, weil...
von Lena
mehr Kommentare
Verpasst keine News und Updates