Sam Witwer über seine Rolle als Agent Liberty in "Supergirl", Staffel 4 (Spoiler)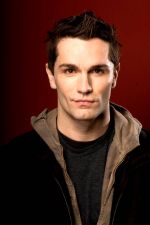 Sam Witwer
Sam Witwer wurde für Staffel 4 von "Supergirl" als Hauptdarsteller verpflichtet und bekommt mit der Episode #4.03 Man of Steel nun eine Folge, die seinen Charakter Ben Lockwood aka Agent Liberty in den Fokus rückt.

Somit steht zum ersten Mal in der Serie "Supergirl" nicht Kara Danvers aka Supergirl (Melissa Benoist) oder einer der anderen langjährigen Hauptcharaktere im Fokus, sondern es wird sich hauptsächlich auf Ben Lockwood und dessen Entwicklung zu Agent Liberty konzentriert.

Sam Witwer äußerte sich gegenüber Entertainment Weekly zur anstehenden Episode, die seinen Charakter in den Fokus rückt: "#4.03 ist eine riskante Episode, da die Serie eine vollkommen neue Richtung einschlägt. Agent Liberty/Ben Lockwood entführt die Serie sozusagen für eine komplette Episode und die anderen regulären Charaktere tauchen nur ab und zu auf. Aber die Episode nimmt die Zuschauer durch die vergangenen Staffeln von "Supergirl" mit und erzählt die Geschichte aus der Perspektive von Ben Lockwood. Da gab es eine Invasion von Aliens, was hat er gemacht? Und wo war er?"

Agent Liberty wird als skrupelloser und furchterregender Anführer der 'Children of Liberty' beschrieben, einer hasserfüllten Gruppe, die die Menschen an erste Stelle setzen und sich gegen die Außerirdischen aussprechen. Gleichzeitig soll er jedoch auch ein brillanter Redner in Gestalt eines Familienmenschen sein. Sam Witwer hofft, dass diese Komplexität des Charakters durch die Hintergrundgeschichte bei den Zuschauern ankommt: "Ich drücke die Daumen, dass die Zuschauer es akzeptieren, denn wenn man "Supergirl" einschaltet, will man natürlich die Charaktere sehen, die man kennt und liebt. Deswegen gehen die Serienmacher ein großes Risiko ein, indem sie gesagt haben 'Hey wird pausieren hier kurz, nehmen euch auf eine ganz andere Reise mit und bringen euch dann wieder zurück zur Serie, die ihr liebt'. Hoffen wir, dass es funktionieren wird."

Sam Witwer selbst hat diese Hintergrundgeschichte seines Charakters auf jeden Fall bei seiner Darstellung von Agent Liberty geholfen. Es war die erste Episode von "Supergirl", die er gedreht hat, weshalb es ihm möglich war Agent Liberty aus seinem Alter Ego Ben Lockwood heraus zu entwickeln, bevor die Zuschauer ihn zum ersten Mal im Auftakt von Staffel 4 zu Gesicht bekamen, dessen Szenen Sam Witwer nach #4.03 gedreht hatte.

Die Episode #4.03 Man of Steel wird heute Abend auf dem US-Sender The CW ausgestrahlt.
Externer Inhalt
An dieser Stelle ist Inhalt von einer anderen Website (z. B. YouTube, Twitter...) eingebunden. Beim Anzeigen werden deine Daten zu der entsprechenden Website übertragen.
Quelle: Entertainment Weekly
Annika Leichner - myFanbase
28.10.2018 20:45
Weitere News
mehr News
Meistgelesen
Verpasst keine News und Updates