Misha Collins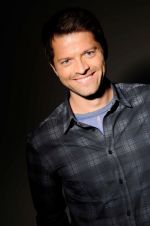 Misha Collins wurde als Misha Dimitri Tippens Krushnic am 20. August 1974 geboren und wuchs in Massachusetts auf. Nachdem er 1992 graduiert hatte, versuchte er sich in mehreren Berufen. So absolvierte er beispielsweise Praktika beim Rundfunk und im Weißen Haus, arbeitete im Baugewerbe und ließ sich zum Sanitäter ausbilden. Schließlich studierte er Soziologie in Chicago. In dieser Zeit lernte er auch seine spätere Ehefrau Victoria Vantoch kennen, mit der er nach dem College nach Washington D. C. zog, um dort eine Softwarefirma zu gründen.

Mehr aus Spaß als aus dem ernsthaften Wunsch heraus Schauspieler zu werden, belegte er einen Schauspielkurs und wurde dort prompt entdeckt. Wieder stand ein Ortswechsel an – dieses Mal nach Los Angeles, um seine Schauspielkarriere anzukurbeln. Es folgten mehrere Gastrollen in Serien, darunter auch in "Charmed", "24", "Emergency Room", "Monk" und "Nip/Tuck", bis es ihm 2009 gelang, sich die Rolle des Engels Castiel in "Supernatural" zu sichern. Um sich auf den Charakter einzustimmen, hat er sogar religiöse Schriften gelesen.

Neben der Schauspielerei hat Misha zahlreiche weitere Talente. So schreibt er unter anderem Gedichte und tischlert seine eigenen Möbel. Am 23. September 2010 kam Collins' Sohn West Anaximander zur Welt und am 25. September 2012 seine Tochter Maison Marie.

Eva K. - myFanbase
Ausgewählte Filmographie (Schauspieler)
2008 - 2020
Supernatural (TV) als Castiel
Originaltitel: Supernatural (TV)
2017
Timeless als Eliot Ness
Originaltitel: Timeless (#1.15 Public Enemy No. 1) (TV)
2012
Ringer (TV) als Dylan Morrison
Originaltitel: Ringer (TV)
2010
Die Stonehenge Apocalypse - Die letzten Tage der Erde als Jacob
Originaltitel: Stonehenge Apocalypse (TV)
2009
Nip/Tuck - Schönheit hat ihren Preis (#5.19 Manny Skerritt) (TV) als Manny Skerritt
Originaltitel: Nip/Tuck (TV)
2008
The Grift als Buster
Originaltitel: The Grift
2008
Nur über ihre Leiche - Meine himmlische Verlobte und ich als Brian
Originaltitel: Over Her Dead Body
2007
Without a Trace - Spurlos verschwunden (TV) als Chester Lake
Originaltitel: Without a Trace (#6.05 Run) (TV)
2007
CSI: NY (TV) als Morton Brite
Originaltitel: CSI:NY (#4.01 Can You Hear Me Now?) (TV)
2007
Reinventing the Wheelers als Joey Wheeler
Originaltitel: Reinventing the Wheelers
2006
Monk (TV) als Michael Karapov
Originaltitel: Monk (#4.12 Mr. Monk and the Captain's Marriage) (TV)
2005 - 2006
Emergency Room - Die Notaufnahme (TV) als Rays Bandmitglied, Bret/Brad
Originaltitel: ER (TV)
2006
Close to Home (TV) als Todd Monroe
Originaltitel: Close to Home (#2.08 There's Something About Martha) (TV)
2006
Navy CIS (TV) als Justin Ferris
Originaltitel: Navy NCIS: Naval Criminal Investigative Service (#4.03 Singled Out) (TV)
2005
CSI: Den Tätern auf der Spur (TV) als Vlad
Originaltitel: CSI: Crime Scene Investigation (#5.13 Nesting Dolls) (TV)
2005
Karla als Paul Bernardo
Originaltitel: Karla
2005
20 Things to Do Before You'Re 30
Originaltitel: 20 Things to Do Before You'Re 30
2004
The Crux als erhängter Mann
Originaltitel: The Crux
2003
Finding Home als Dave
Originaltitel: Finding Home
2003
Moving Alan als Tony Derrick
Originaltitel: Moving Alan
2002
24 - Twenty Four (TV) als Alexis Drazen
Originaltitel: 24 (TV)
2002
Par 6 als Al Hegelman
Originaltitel: Par 6
2001
Seven Days - Das Tor zur Zeit (TV) als Sergei Chubais
Originaltitel: Seven Days (#3.21 Born in the USSR) (TV)
2000
New York Cops - NYPD Blue (TV) als Blake DeWitt
Originaltitel: NYPD Blue (#7.12 Welcome to New York) (TV)
1999
Durchgeknallt als Tony
Originaltitel: Girl, interrupted
1999
Charmed - Zauberhafte Hexen (#2.07 Die Akasha-Rollen) (TV) als Eric Bragg
Originaltitel: Charmed (TV)
1999
Liberty Heights - Rock'n'Roll & krumme Geschäfte als Guy
Originaltitel: Liberty Heights
1998
Legacy (TV) als Andrew
Originaltitel: Legacy (TV)
Steckbrief
| | | |
| --- | --- | --- |
| Geburtstag | | 20.08.1974 |
| Geburtsort | | Massachusetts, USA |
Aktuelle Kommentare

17.01.2021 22:36
Das hilft dann schon mal weiter, weil Emilio in Episode...
von Catherine

16.01.2021 10:31
"denn die inhaltliche Dichte ist durch die Vielzahl von...
von Irina S.
mehr Kommentare
Verpasst keine News und Updates